President visits scientists
(Xinhua)
Updated: 2004-12-25 00:04
President Hu Jintao visited two well-known scientists during a day used to mark scientific endeavour.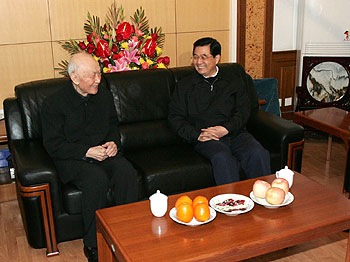 President Hu [R] talks with Zhu Guangya. [Xinhua]

Nuclear physicist Zhu Guangya and mathematician Yang Le, welcomed Hu at their homes in Beijing on Friday afternoon.

Hu heard their opinions and suggestions on the country's development of science and technology, and extended New Year's greetings to them and science workers throughout the country.

Also yesterday, the Chinese Academy of Sciences (CAS) granted awards to 50 researchers who wrote outstanding doctoral theses.

The country's top academy also issued the coveted CAS President's award to top postgraduate students.

CAS President Lu Yongxiang encouraged all postgraduate students to make more contributions to advance research in the country.

Twenty of the 119 students were awarded the top prize. The rest received a second prize.

Since 1989, when the CAS established the President's awards, 237 students have received the top prize, while 2,233 have earned the second prize.

More than 33,000 postgraduate students, 43 per cent of whom are applying for doctoral degrees, are now studying at CAS institutes at the Chinese University of Science and Technology, a prestigious school affiliated to the CAS.

Since 1978, the CAS has trained more than 60,000 graduates with master's or doctor's degrees.




Today's Top News
Top China News

A time for giving, a time for sharing




Nation joins groups against money laundering




Premier calls for greater UN role in Iraq




President visits scientists




High-end overseas professionals in demand




Afghan cabinet, minus warlords, sworn in