A time for giving, a time for sharing
By Raymond Chou (China Daily)
Updated: 2004-12-25 00:04
Christmas has come to China, but the old Western holiday has taken on a brand new Eastern face.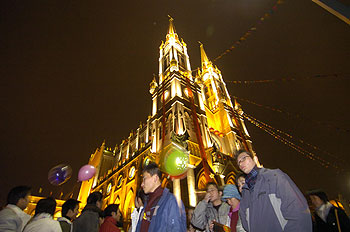 People in Ningbo, East China's Zhejiang Province, queue up at a church on Christmas Eve. [newsphoto]

Even though few Chinese can sing Christmas carols, shops in the country's biggest cities are festooned with glittering lights and decked with Santa Claus statues -- and even some live actors in costumes. Millions of greeting cards are whooshing through the nation's postal system and telecommunications networks.

Friday night was party time at almost every bar, every fashion district and every college campus.

More and more urban Chinese have embraced the Western holiday, but they have generally stripped it of its religious origin and given it a distinctly commercial flavour.

"China during the Christmas season is definitely a retailer's paradise," said Tyra Guo, an editor at Netease, an urban white-collar worker who is the target of the holiday-driven shopping boom.

"It seems every fancy store offers some kind of Christmas special. Even movie theaters have the so-called four-movie Christmas eve," said Guo.

"The bars in Beijing will be so crowded that I have chosen to stay put and have a home party with just a few friends."
A girl poses for photograph bathed with a man-made snow at the Bo'ai Square in the downtown Nanjing on Christmas Eve. [newsphoto]

It is no secret that Christmas in China is mainly for the young and the chic.

"We love holidays like Valentine's Day and Christmas because they give us an opportunity to keep in touch with friends and relax a little," said Zhang Hua, a dancer at a Beijing performing arts troupe. "We don't really care what Christmas means in other places, but over here it means partying all night long with friends."

Zhang adds that, compared with these latest imports, traditional Chinese holidays seem old-fashioned.

"Well, the Spring Festival is all about eating and drinking till you drop. No wonder it has lost some of its appeal because we're living in an age of abundance now. You can eat like that every day if you want."

"I don't think Chinese holidays will lose their relevance. The 7-day Lunar New Year holiday still gives us a chance to travel and have family reunions," said Michelle Ni, an employee of BP in Shanghai.

Ni spent last night in a swanky hotel, with her beau and a few select friends.

This afternoon she will be in another party thrown by her boss. "Somehow in urban areas the festive atmosphere is stronger for Christmas," she said.

However, the holiday spirit of giving and sharing is reflected in more ways than cards and exquisite packages.

Ana Gonzalez, a Spanish teacher at Beijing International Studies University, has a very special gift for someone she does not even know very well.

When she found out that the daughter of her school's cleaning lady had dropped out of school, she decided to fund the 16-year-old until she completes high school.

"She has two brothers and a father who has no job. Well, I'm not really making a lot of money here, but if I don't buy this or that, I can save the money and make this Christmas truly wonderful for this girl and her family," said Gonzalez.

On a chilly day last week, a group of Shell Petroleum employees brought loads of presents to the Beijing New Century School, which serves children of migrant workers. The team, who had been volunteer English teachers at that school, was made up of local employees and one expatriate.

The books, toys and stuffed animals were handed out as prizes for games that they played with the kids, who did not know Santa Claus and thought Christmas fell on that day.

Wang Lin, a 14-year-old girl whose parents are from Sichuan, said that her Christmas wish was that her elder sister could get into college and her parents would not quarrel any more.

"It's freezing today," said one of the Shell volunteers, "and I'm glad we've brought a little joy and warmth to these children. That's what this holiday is all about."




Today's Top News
Top China News

A time for giving, a time for sharing




Nation joins groups against money laundering




Premier calls for greater UN role in Iraq




President visits scientists




High-end overseas professionals in demand




Afghan cabinet, minus warlords, sworn in