Japan cabinet approves austere budget
(Agencies)
Updated: 2004-12-24 21:00
TOKYO - Japan's cabinet adopted an austere 798 billion-dollar budget for the year to March 2006 amid concerns over the country's economic health and outlook as key export growth slows.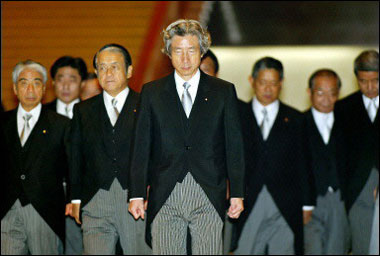 Japanese Prime Minister Junichiro Koizumi (C) leads his cabinet members to a photo session just after they were appointed. Japan's cabinet adopted an austere 798 billion-dollar budget for the year to March 2006 amid concerns over the country's economic health and outlook as key export growth slows. [AFP]

Prime Minister Junichiro Koizumi's cabinet approved the budget totalling 82.18 trillion yen (798 billion dollars), up marginally from 82.11 trillion yen in the initial budget for the current fiscal year to March 2005.

Budget general expenditures total 47.28 trillion yen, down 0.7 percent from the current fiscal year and the first fall in three years, a cabinet official said.

International ratings agency Standard and Poor's rating agency warned that while the budget would help stop an expansion in spending, it did not appear to lay the groundwork for financial reforms.

"In general, the budget plan is not expected to be a first step in longer-term fiscal restructuring but can be regarded as a brake on expenditure, without which it would continue to rise," the ratings agency said.

Finance Minister Sadakazu Tanigaki admitted the spending cut would do nothing dramatic to cut Japan's swelling national deficit.

"Although the government will cut fresh government bond issuance next fiscal year, levels of bond issuance are still high," Tanigaki was quoted by Kyodo News as saying. "We must remain vigilant."

Standard and Poor's also took to task the government for allocating more money to construction projects, long a favorite of Japanese politicians.

"Allocations for construction of new Shinkansen (bullet train) routes and the second phase of Kansai international airport have revealed the absence of a blueprint for Japan's transportation infrastructure," SP said.

"The lack of a medium- to long-term strategy is likely to lead to many construction projects at local airports without considering profitability based on realistic assumptions," it said.

"This may also lead to expensive airport usage fees and a weakening of the position of Japanese airports as the hub of a global or Asian aviation network, thereby adding opportunity costs," it added.

On defense spending, the government earmarked 4.86 trillion yen, down 1.0 percent and the third consecutive decline, a defense agency spokesman said.

Japan also cut foreign aid, long a key tool in Japanese foreign policy, for the sixth straight year, allocating 786.2 billion yen.

However, Japan's rapidly aging population pushed social welfare costs up 2.9 percent to 20.38 trillion yen.

Prime Minister Koizumi has vowed Tokyo's commitment to fiscal reform as falling tax revenues and massive pump-priming in the 1990s have led to a deterioration in Japan's fiscal health.

Total government debt at the end of 2003 stood at a record high of 670 trillion yen or 133 percent of total economic output.

The government has downgraded Japan's economic growth in the year to March 2006 to 1.6 percent from 2.1 percent in the current year to March 2005 amid global economic uncertainties and as export growth, the driver for the economy up to now, slows.




Today's Top News
Top World News

Second manned space mission ready in Sept.




Large oil reserves found in Bohai bay




Taiwan separatists not to be tolerated




Hu, Chavez see deals inked




China's economic miracle applauded




Putin: Is US trying to isolate Russia?