World's biggest earthquake in almost four years registered off Australia
(Agencies)
Updated: 2004-12-24 15:40
The world's biggest earthquake in almost four years, measuring 8.1 on the Richter scale, struck off the coast of Australia's southern island state of Tasmania, but caused no damage or injury.
Seismological officials said it was felt throughout Tasmania and the South Island of New Zealand, but because it occurred at a depth of 10 kilometres (6.25 miles) and far from inhabited land, it was barely noticed even by the scientists or penguins on nearby Macquarie Islands.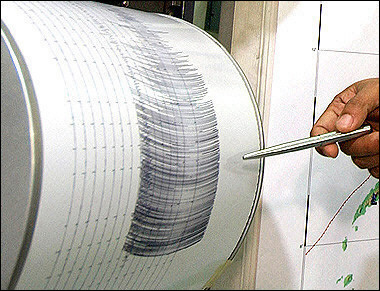 Earthquake recorded on a seismograph. The world's biggest earthquake in almost four years, measuring 8.1 on the Richter Scale, was registered off the coast of Australia's southern island state of Tasmania, seismological officials said. [AFP/file]

Geoscience Australia said the epicentre of the quake, which struck at 1:59 am (1459 GMT), was 400 kilometres (250 miles) off Macquarie Island and 800 kilometres (500 miles) off the coast of Tasmania, about halfway between Australia and Antarctica.

Seismologist Cvetan Sinadinovski said it caused buildings to shake in the island state for up to 15 seconds, but did not cause a tsunami or unusual tidal activity because it was of horizontal rather than vertical displacement and struck far off the coast.

"If it happened underneath a population centre in Australia, this would probably have destroyed a whole city," Sinadinovski said.

He described the quake as more than 30 times stronger than the earthquake that devastated the south-eastern Australian city of Newcastle in 1989, claiming 13 lives and injuring 160.

Friday's earthquake, which was initially registered as 7.8 on the Richter scale but later upgraded to 8.1, was the largest since one off the coast of Peru in early 2001, Sinadinovski said.

He said large earthquakes were common in the Macquarie Rise region, occurring every year or two.

"This was an inter-plate earthquake between Indo-Australian and Pacific plates," he said. "The last earthquake of similar magnitude in the Macquarie Rise region was in 1924."

The Macquarie archipelago, which has one of the largest colonies of king penguins in the world estimated at 850,000 strong, is also rare in being composed entirely of oceanic crust and rocks from the mantle, deep below the earth's surface.

The archipelago, with its mountains rising some 400 metres (1,300 feet) above sea level, has been listed since 1997 as a UNESCO World Heritage site because of its unique natural beauty and its Antarctic fauna.

The Australian Antarctic Division (AAD) has a scientific station, which is home to 22 Australians, mostly scientists and wildlife officers from the Tasmanian Parks and Wildlife Service.

"Nobody felt anything," AAD spokesman Tony Press told Australian Associated Press.

Police Senior Sergeant Neil Cruickshank of Invercargill on New Zealand's South Island said the quake was strong enough to awaken him.

"It was reasonably prolonged, but it felt about half the strength of the one we had a few weeks ago," he said, referring to a quake measuring 7.2 on the Richter scale that struck on November 23 in the southern Tasman Sea closer to New Zealand.




Today's Top News
Top World News

Large oil reserves found in Bohai bay




Taiwan separatists not to be tolerated




Hu, Chavez see deals inked




Second manned space mission ready in Sept.




China's economic miracle applauded




Putin: Is US trying to isolate Russia?