Deadly blast kills 1 in southern Thailand
(BBC)
Updated: 2004-12-24 14:42
At least one person has been killed and several wounded after a bomb exploded in a restive area of southern Thailand.
The blast happened at a Siam Commercial Bank branch in Sungai Kolok, a town in Narathiwat province on the border with Malaysia, said police.
The town, which is popular with Malaysian tourists, has been the scene of other explosions in the past.
Narathiwat is one of three mainly-Muslim southern provinces at the centre of an Islamic separatist insurgency.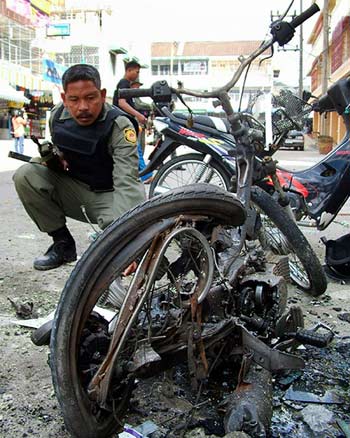 A Thai soldier inspects a destroyed motorcycle in front of Siam Commercial Bank in Sungai Kolok district, Narathirat province, about 1149 km (652 miles) south of Bangkok, December 24, 2004. A bomb hidden in a motorcycle killed one person and wounded six outside a bank in Thailand's largely Muslim deep south on Friday, police and hospital officials said. [Reuters]

"One man died and six were wounded, including one in critical condition with chest wounds," Wichai Wichianwattanachai, a doctor at Sungai Kolok's main hospital, was quoted by Reuters news agency as saying.

Police said the bomb was planted in a motorcycle parked in front of a cash machine beside the bank, exploding at 0900 (0200 GMT).

A blast at a bar in the town in October killed two people, including a Malaysian tourist, and wounded 20.

Teachers' strike

More than 550 people have been killed so far this year in the region as violence has increased between the country's minority Muslim community and the authorities.

Tensions rose dramatically after 85 Muslim protesters were killed in October when the army tried to stop their demonstration.

Seven were shot and 78 suffocated or were crushed to death when they were loaded into army trucks.

A government-backed inquiry into the incident found that the deaths were not deliberate.

But Prime Minister Thaksin Shinawatra admitted the panel found that some senior officials failed to do their jobs, and left it to subordinates to handle the protest's outcome.

Thousands of teachers in the south went on strike on Thursday, urging the authorities to do more to protect them from attacks by Muslim militants.

They said they were perceived by the rebels to be representatives of the Buddhist-dominated administration.




Today's Top News
Top World News

Large oil reserves found in Bohai bay




Taiwan separatists not to be tolerated




Hu, Chavez see deals inked




Second manned space mission ready in Sept.




China's economic miracle applauded




Putin: Is US trying to isolate Russia?