Teenagers hooked by 'free samples' at rave parties
By Eddie Luk (China Daily HK Edition)
Updated: 2004-12-24 09:20
Twenty-three-year-old Kei Chuen-shing started abusing drugs when his father's business ran into debt several years ago.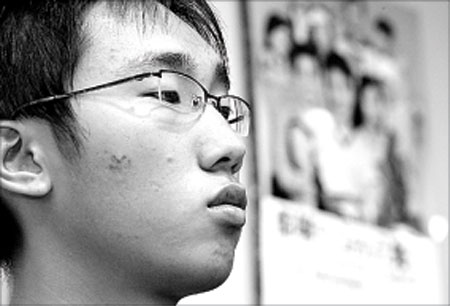 Rehabilitated drug addict Kei Chuen-shing recounts his nightmarish experience of drug abusing at a press conference held by the Action Committee Against Narcotics yesterday. [HK Edition]


Recalling the nightmarish period at a press conference held by the Action Committee Against Narcotics yesterday, Kei said drugs were his way to avoid problems.

"I felt like a loser, with the financial difficulties at home. I felt hopeless and helpless when I thought of my future. I took drugs so that I could escape reality. But I've actually put my life and health at great risk," he said.

Taking "party drug" ketamine only in the beginning, Kei said he gradually increased the dosage and even mixed it with other drugs to get high.

To obtain money to buy drugs, Kei had to resort to illegal activities.

Meanwhile, his health was taking a toll.

"I had been sent to hospitals for emergency treatment several times because of overdoses," he said.

Though Kei has succeeded in kicking the addiction for more than one year, he is still suffering from side-effects like poor memory.

Kei is now studying in Christian Zheng Sheng College, a special school for rehabilitated drug addicts.

According to the committee, a government advisory body, the number of drug-abusing young people is on the rise in Hong Kong.

Though the number of all drug abusers has dipped 6.5 per cent to 12,003 in the first three quarters of the year compared with the same period last year, those aged under 21 has increased by 4 per cent to 1,694, according to the committee.

Ketamine abusers aged under 21 soared 47 per cent to 1,185 in the first three quarters of this year, compared with 805 in the same period last year.

Young people taking ecstasy pills numbered 574 in the first nine months of this year, compared with 440 in the same period last year.

Daniel Shek, a Chinese University of Hong Kong professor who chairs the Action Committee Against Narcotics' subcommittee on research, said the increase in young drug abusers is related to the "rave culture".

Young people, especially girls, are given free samples of psychotropic drugs in parties to get them hooked.

"Young people wrongly believe that taking drugs can help them escape from their problems and feel relaxed. But they don't know how seriously drug abuse can harm their health.

"We have also found that youngsters who have the smoking and drinking habit are more likely to take drugs than non-smokers," he said.

Ronald Chen, assistant professor of the University of Hong Kong's department of psychiatry, said his department has conducted a study on the cognitive impairment and other harmful effects of ketamine abuse.

More than 100 drug abusers were examined in the study and almost all were found to suffer from weaker memory and long-term mental disorders.

"They have more difficulty organizing or performing tasks. They also have more psychiatric disturbances - always feeling anxious, depressed or having suicidal thoughts," Chen said. He gave a dire warning on overdosing and mixing drugs. "It can be fatal," he said.

Action Committee Against Narcotics Chairman Choi Yuen-wan said cocaine may be staging a comeback.

"There is a growing trend that people start abusing cocaine again in US and Western Europe as the price of the drug has dropped," said Choi.

Hong Kong has followed the trend in Western countries in the past. "We are alert to the global trend," Choi said, adding that it will adjust its strategy if the trend is seen in Hong Kong.

Police have seized about 60 kilogrammes of cocaine so far this year, compared with 6.63 kilogrammes last year and 8.3 kilogrammes in 2002.

Commissioner for Narcotics Rosanna Ure said yesterday the government and police will join forces with teachers and parents to fight drug abuse among teenagers.

The government will carry out more educational campaigns targeting young people.




| | |
| --- | --- |
| | |
| Britney Spears named top star of 2004 | |

| | |
| --- | --- |
| | |
| 'Flying Daggers' tops Chinese 2004 box office | |

| | |
| --- | --- |
| | |
| Angelina Jolie tops the mistletoe kiss poll | |
Today's Top News
Top Life News

Large oil reserves found in Bohai bay




Taiwan separatists not to be tolerated




Hu, Chavez see deals inked




Second manned space mission ready in Sept.




China's economic miracle applauded




Putin: Is US trying to isolate Russia?