Palestinian local election seen as dry run
(Agencies)
Updated: 2004-12-24 09:12
Thousands of voters overwhelmed polling stations in scattered West Bank towns and villages on Thursday as Palestinians enthusiastically voted in their first local elections in nearly three decades.
The polls gave Palestinians in 26 small communities a democratic dry run ahead of Jan. 9 elections to replace Yasser Arafat as head of the Palestinian Authority. They also marked the first head-to-head electoral matchup between the ruling Fatah Party and the Islamic Hamas organization.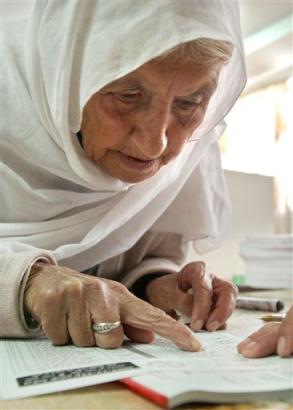 An elderly Palestinian woman looks for her name in a voter list during municipal elections in the West Bank town of Jericho, Thursday Dec. 23, 2004. Thousands of Palestinians crammed polling stations in scattered West Bank towns to vote in municipal elections Thursday that were a warm up for next month's presidential ballot and the first time the ruling Fatah movement and the Islamic militant group Hamas competed for voter support. [AP]

However, many voters said they were not interested in party affiliations, preferring to vote on local issues and, in some cases, clan loyalties.

Palestinian Prime Minister Ahmed Qureia, who cast his ballot in the Jerusalem suburb of Abu Dis, praised the vote as "the first step toward the establishment of the Palestinian state."

No major Palestinian cities participated in Thursday's poll. Voting in hundreds of other cities, towns and villages is expected next year.

Election officials said they were stunned by the flood of voters ¡ª some of whom began gathering outside polling stations before daybreak and still had to wait for hours after the polls opened. The officials said it was a sign Palestinians are hungering for democracy. Some candidates handed out sandwiches and juice to people waiting on the long lines.

Turnout could exceed 90 percent of the 150,000 Palestinians eligible to vote, officials said.

"Just the crush of people was totally unexpected," said Nasser Awanja, the election official in charge of one station in the town of Jericho. "Because it has been since 1976 that we have had elections, they are really fired up."

Voters who waited more than four hours in sometimes chaotic conditions to cast their ballots in Jericho complained election officials were not properly prepared, and there were not enough voting booths.

Many voting stations in Jericho opened half an hour after the official 7 a.m. start time because the ballot boxes were delivered late.

"It doesn't matter, one or two hours. I'm going to vote. I have been waiting for this for a long time," said farmer Nabil Abu Kattan, 48.

The elections Thursday are to replace the mayors and councilors who were appointed over the past three decades, first by the Israeli military and later by the Palestinian Authority.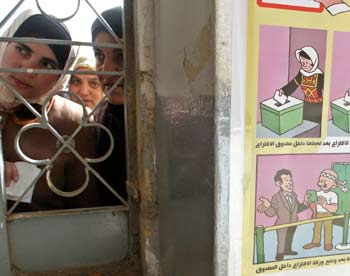 Palestinian women queue to vote in a polling station during Palestinian municipal elections in the West Bank town of Halhoul near Hebron December 23, 2004. Palestinians voted on Thursday in the first municipal elections in the West Bank in nearly three decades, a dress rehearsal for a presidential ballot next month to choose Yasser Arafat's successor. [reuters]

Fearing a strong showing by the increasingly popular Hamas, Arafat was reluctant to allow municipal elections. Before his death last month, Arafat finally agreed to hold a limited poll.

The 26 communities chosen for the first round are Fatah strongholds, said Ali Jarbawi, former head of the Central Elections Commission.

The vote, with about 800 candidates vying for 360 local council seats, marked the first time Fatah and Hamas competed in elections. Hamas, which is pledged to Israel's destruction, boycotted the 1996 general election won by Arafat as a byproduct of interim peace deals with Israel.

Hamas is boycotting the presidential election next month but plans to field candidates in future parliamentary and local elections.

The enthusiasm for the vote was clear throughout Jericho, the world's oldest continuously populated town. The oasis in the parched Jordan River Valley is an isolated part of the West Bank that has been largely bypassed in the four-year conflict.

Shops and cars were plastered with campaign posters. Outside polling stations, small children handed out post cards listing candidates from competing slates. Nearby, vendors sold nuts and bread to waiting voters.

At a Jericho girls' school used as a polling place, hundreds of voters filed past a cartoon poster demonstrating how to vote and instructing them not to smoke or carry guns inside. "Voting is a right and that right is yours," the poster said.

Men and women stood in separate, orderly lines outside a polling station, allowing elderly voters to jump to the front. Inside, observers representing the candidates watched from behind a roped-off area.

In contrast, another polling station at a school across town was a scene of complete chaos, with a mob of voters pushing to get into a tiny, overcrowded room, crushing those at the front who were being held back by police.

Many in Jericho said family links were not much of a factor in the election, but scores of voters in the northern West Bank town of Tubas said it was decisive in their votes. One Tubas polling station was temporarily closed after a 20-year-old clan dispute erupted into a fist-fight outside.

"We will choose according to clan, that's it," said Musharaf Mahmoud, 43.

Larger issues intruded on the local politics on Thursday.

After voting, Qureia said he was disappointed with British Prime Minister Tony Blair's plan to hold a London conference on Palestinian reform.

In a visit to the region Wednesday, Blair described the gathering as a "modest step" toward peace talks. The Palestinians had hoped for a full-scale peace conference.

"We don't need to go to a conference so we can be rehabilitated and trained how to negotiate. We are capable of doing all these things," Qureia told his Cabinet. "We are in need of an international conference on peace and not a meeting."




Today's Top News
Top World News

Large oil reserves found in Bohai bay




Taiwan separatists not to be tolerated




China to invest more into basic research




Putin: Is US trying to isolate Russia?




Hu, Chavez see deals inked




Island province planning cross-sea bridge