Chocolate strives for standard
(China Daily)
Updated: 2004-12-24 09:02
A new national standard on chocolate was carried out in August this year. How will the standard affect the chocolate we eat? And how will it affect the current market?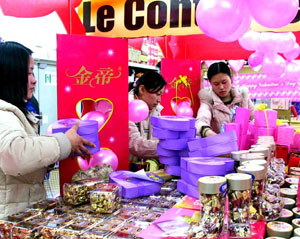 Buyers are atttracted by the chocolate counter at a department store in Nanjing, East China's Jiangsu Province. [newsphoto]


Sinomonitor International, a Sino-Japanese independent market monitoring company established in 1997, recently released a report offering a vivid picture of China's chocolate market and an analysis of the new standard's potential impact on the sector.

The report is based on a database of the China Marketing and Media Study (CMMS), which has been following over 70,000 Chinese consumers, between the ages of 15 and 64, in 30 major cities.

The report was compiled by Sinomonitor's analyst Liu Fan. Excerpts follow:

Chocolate, with its special meaning in Western culture, is becoming more and more fashionable in China.

However, per capita chocolate consumption in China is still much lower than the world's average.

Statistics indicate Chinese citizens annually consume less than 50 grams of chocolate per person.

While in Western Europe, the per capita chocolate consumption is 8 kilograms per year.

The Swiss are the world's largest consumers of chocolate, with an annual per capita consumption of 10 kilograms.

Even in China's neighbouring countries such as Japan and South Korea, average per capita chocolate consumption is more than 1.4 kilograms a year, much higher than that of China.

But with a population of more than 1.3 billion, China is widely regarded as a potentially huge market for world chocolate makers.

During the first China International Forum on Cocoa and Chocolate Products, president of the International Association of Cocoa, Chocolate and Confectioners Tom Harrison said rapid economic growth, increasing incomes, as well as manufacturers' efforts to develop new products, will all trigger fast growth in China's chocolate market.

The market is in fact growing. CMMS 2004 data shows 37.8 per cent of urban residents purchased and consumed chocolate over the past year, indicating there are about 26.48 million chocolate fans in the country's urban areas.

Chocolate makers from around the world all have their eyes on and focus set on China's huge potential sweet tooth.

CMMS data shows foreign and joint venture brands are currently controlling the market.

In terms of market share, Dove is the top brand and holds 38.61 per cent of the total market.

Following Dove are Cadbury, Le Conte, Nestle, Hershey's, Golden Monkey, Ferrero Rocher, M&M's, Tresor Dore and Shenfeng.

The top 10 brands hold nearly 90 per cent of China's total chocolate market.

And the three leading brands Dove, Cadbury and Le Conte control nearly two-thirds of the market share.

But out of the 10, only two are domestic brands. Golden Monkey holds 2.94 per cent of the market and Shenfeng controls 1.58 per cent.

In terms of brand loyalty, the other major factor weighing a brand's popularity in the market, foreign and joint venture brands are also more competitive than Chinese brands.

Dove remains on top with 72.4 per cent of the market in loyal customers.

The figures illustrating market share and brand loyalty are clear evidence that Chinese chocolate producers are struggling in the competitive field.

CMMS data shows some 52.4 per cent of chocolate consumed in the Chinese market was used as gifts.

In the chocolate gift market, Dove still ranks first, with 40.2 per cent of consumers purchasing Dove products as gifts.

The success of foreign and joint venture brands is mainly due to product recognition.

Lindt, for example, is the most famous chocolate brand from Switzerland and is seen as a premiere chocolate brand around the world.

Lindt's products contain more than 170 ingredients. They use first-class cocoa beans and cocoa butter to maintain an original chocolate flavour.

Tresor Dore and Ferrero Rocher, two well-known chocolate brands from the Italian Ferrero company, tout a unique sense of product values.

The Italian brands pay more attention to the mental needs of consumers rather than the real value consumers hope to pay for the products. They believe product prices are heavily related to brand image.

Despite their higher prices, the brands have recognition in China and succeed on that recognition.

Product quality and brand image prove much more important than price, especially when consumers buy chocolate as gifts.

CMMS's study on consumer living patterns shows that frequent consumers, those who bought chocolate at least once a week, follow fashion, buy fine quality goods and strive for high social status.

More than half of the frequent consumers say they love things in vogue. And 44.1 per cent choose fashionable goods over those of practical usage.

Nearly 60 per cent of the frequent chocolate consumers admit they are willing and even enjoy paying more for their purchases and 57.6 per cent believe the use of famous brands symbolizes one's social status.

In a market where consumers prefer foreign brands, the implementation of the new standard will not have a major impact.

Foreign chocolate brands have all adopted international standards, so there is no problem for them to meet the Chinese requirements.

But the new standard will put great pressure on domestic chocolate makers who are already in a weak position.

The standard regulates that the content of fat in non-cocoa butter cannot exceed 5 per cent.

The content of cocoa butter must be no less than 20 per cent in white chocolate and no less than 18 per cent in dark chocolate.

China is estimated to be home to 30 chocolate companies, which produce over 100 types of chocolate products.

However, more than 80 per cent of the total will not meet the requirements of the new standard.

Currently, domestic producers mainly use non-cocoa butter such as species of cocoa fat and cocoa butter substitutes as raw materials.

Compared with natural cocoa butter, the ingredients cost much less but also have inferior flavour.

Information about inferior ingredients could deter consumers from buying specific brands.

Consumer decisions are likely to determine the fate of a chocolate brand or even a chocolate company.

This fact should push Chinese firms to improve product quality, upgrade production technologies and increase investment in research and development, in a bid to survive in the highly competitive market.





| | |
| --- | --- |
| | |
| Britney Spears named top star of 2004 | |

| | |
| --- | --- |
| | |
| 'Flying Daggers' tops Chinese 2004 box office | |

| | |
| --- | --- |
| | |
| Angelina Jolie tops the mistletoe kiss poll | |
Today's Top News
Top Life News

Large oil reserves found in Bohai bay




Taiwan separatists not to be tolerated




China to invest more into basic research




Putin: Is US trying to isolate Russia?




Hu, Chavez see deals inked




Island province planning cross-sea bridge