Three US marines killed in Fallujah fighting
(Agencies)
Updated: 2004-12-24 08:43
U.S. Marine infantrymen fought with insurgents in Fallujah on Thursday as warplanes and tanks bombarded guerrilla positions in the heaviest fighting here in weeks.
The clashes raged as nearly 1,000 residents returned to the devastated city for the first time since U.S. troops drove out most of the militants last month.
At least three Marines were killed in combat that underlined how far the city and surrounding area are from being tamed as the United States and its Iraqi allies try to bring quiet before national elections Jan. 30.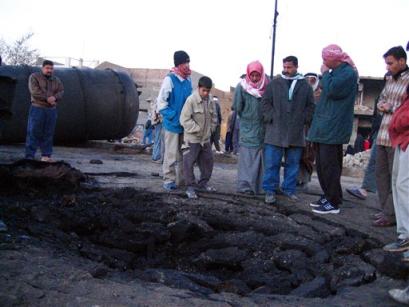 People look at a crater left when a natural gas tanker exploded in Mahoumdiya, some 25 kilometers (15 miles) south of Baghdad, Iraq, Thursday Dec. 23 2004, killing four people and injuring about 50, according to hospital director Dr. Dawoud al-Taei. The tanker, seen in background left, was en route to Baghdad when, according to witnesses, it was hit by a rocket and exploded. [AP]

American troops have also faced growing violence in the northern city of Mosul, where a blast ripped through a mess tent at a military base Tuesday, killing 22 people ¡ª most of them Americans. The suicide bomber believed to have carried out the attack was probably wearing an Iraqi military uniform, a U.S. general said Thursday.

The FBI has joined the investigation into the blast as the military reassesses security at bases across Iraq in light of the bomber's success in apparently slipping into the camp and entering a tent crowded with soldiers eating lunch.

In the center of Fallujah, F-18s dropped several bombs, sending up plumes of smoke. Tank and machine gun fire could be heard to the south, while howitzers at Camp Fallujah southeast of the city boomed throughout the day. The guns fired illumination rounds after dark to help Marines on the ground spot attackers.

The military would not give specific figures for casualties in Fallujah, saying only that three Marines were killed in action Thursday in Anbar province, which surrounds the city. But a U.S. official, speaking on condition of anonymity, confirmed the three deaths occurred in the Fallujah clashes.

While the fighting raged, hundreds of Fallujans spent hours lined up at a checkpoint northwest of the city, one of four entry points where people had to prove they lived in the Andalus district, a mostly commercial area in the heart of Fallujah that was the first neighborhood opened to residents.

Iraqi National Guardsmen hung small, colorful posters on concrete barriers that showed a crying girl and the words in Arabic, "Zarqawi killed her parents," a reference to Jordanian terrorist Abu Musab al-Zarqawi, who was believed to have been in Fallujah before the U.S. attack. Another poster showed a father lifting his daughter to put a ballot in a voting box, meant to encourage people to vote Jan. 30.

Most of the people showed up on foot or shuttle buses, not having gotten word that authorities had changed their minds about allowing cars into the city. U.S. officials had wanted to keep vehicles out, to lessen the chances for car bombings, but Iraq's interim government insisted people be permitted to bring in their cars.

Officials said few people stopped by humanitarian centers set up around the city to offer food and other supplies. Huge tanks holding drinking water have been erected across Fallujah because the water system is still out of commission.

By the end of the day, 921 people had passed through the four checkpoints, 16 were turned back and one was detained, a U.S. military spokeswoman, Maj. M. Naomi Hawkins, said.

Officials said people may not have known they were allowed to go home, and more might come after announcements during weekly prayers at mosques Friday. They also said some people were waiting to hear whether it was safe to return ¡ª a question made more acute with the fighting.

"The word is slow to get out," said Lt. Col. Michael Paulk, a military spokesman. "They want to hear reaction from people who are coming to the city."

Many may be in for a shock. Marines have said many people staying in refugee camps near Fallujah did not seem to be aware of the extent of damage. Few buildings were left unscarred in the U.S. offensive, which began Nov. 8.

"This is all that's left of my property," one returnee said Thursday, waving a dusty blanket.

In footage by Associated Press Television News, the corpse of an elderly woman was visible in a destroyed house, lying face down in her black robe. It was not clear how long ago she was killed.

Others seemed undeterred by the destruction.

"We want to go back to Fallujah. We want to see whether our houses were looted or not," a man said. "Even if our houses were destroyed, we are ready to set up tents inside Fallujah."

American commanders have hailed the offensive to retake Fallujah as a major tactical victory. But pockets of insurgents remain in the city ¡ª and violence elsewhere in Iraq has continued, after many guerrillas apparently slipped out of Fallujah to operate elsewhere in central and northern Iraq.

Thursday's combat was the heaviest around Fallujah since a surge of fighting Dec. 10 that killed seven Marines, three Iraqi soldiers and about 50 insurgents.

Returning the estimated 250,000 Fallujans is a key step in the attempt to restore the city as the elections approach. U.S. and Iraqi officials have organized a gradual return to prevent a hard-to-control flood of people at the same time troops are engaged in persistent clashes with insurgents still in the city.

The violence in Fallujah and Mosul underscores the difficulty the United States and its Iraqi allies are facing in trying to bring off the election. Voter registration has not begun in either city, and the election could be seen as illegitimate if these two major cities and outlying areas don't take part.

The deaths of the three Marines, and the killing of a U.S. soldier by a roadside bomb in Baghdad on Thursday, raised the number of U.S. troops who have died since the start of the war in March 2003 to at least 1,325, according to an unofficial count by The Associated Press.




Today's Top News
Top World News

Large oil reserves found in Bohai bay




Taiwan separatists not to be tolerated




China to invest more into basic research




Putin: Is US trying to isolate Russia?




Hu, Chavez see deals inked




Island province planning cross-sea bridge