Hu, Chavez see deals inked
By Jiang Zhuqing (China Daily)
Updated: 2004-12-24 01:13
The upcoming Christmas holiday will be a memorable one for Venezuelan President Hugo Rafael Chavez Frias, he will spend it in snow-covered Beijing.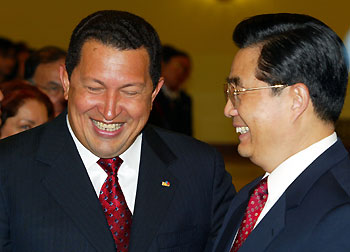 President Hu talks with Venezuelan President Hugo Rafael Chavez Frias during a welcome ceremony at the Great Hall of People. [newsphoto]

Chavez visit marks 30 years of diplomatic relations between the two countries and heralds growing economic and trade links.

The visiting president and his Chinese counterpart Hu Jintao yesterday witnessed the signing of eight agreements on economic and technological co-operation, infrastructure construction, energy and agriculture.

China will work with the South American country to push forward the "strategic partnership for common development," said Hu before the signing ceremony.

"The two sides could expand their co-operation in energy and agriculture, kick off projects on mineral exploration as well strengthen investment and co-operation in infrastructure and high-tech fields," said Hu.

Echoing Hu's opinion, Chavez put forth his ideas on trade and economic co-operation, hoping the two sides will raise the bar on agriculture, energy exploitation and infrastructure.

The two nations have already worked together in politics, economy, culture, technology and other fields, Chavez said.

Expressing Venezuela's gratitude for the economic and social aid from China and its people, Chavez said Venezuela will stick to the one-China policy and support China's unification.

Hu thanked him for Venezuela's position and expressed appreciation for the country's recognition of China's market economy.

Before the meeting between the two presidents, China's top legislator Wu Bangguo also held talks with the Venezuelan leader.

"We should further relations between the two countries through the Sino-Venezuelan friendship subcommittee under the NPC," said Wu, chairman of the National People's Congress Standing Committee.

Chavez said the Venezuelan parliament will establish a friendship organization to promote exchanges with the NPC.

This is Chavez's third State visit to China, and marks the 30th anniversary of Sino-Venezualan diplomatic relations.

Besides Beijing, he will also visit Shandong Province in East China.

Full market economy status

Venezuela recognized China's full market economy status Thursday. The Venezuelan government made this recognition in the third meeting briefing of the high-level mixed committee. The document was signed by the two governments here during Venezuelan PresidentHugo Rafael Chavez Frias's five-day state visit to China.

Both sides believed this recognition will help the two countries cooperate in the World Trade Organization and further boost the bilateral economic relations.

So far, 27 countries have recognized China's full market economy status, including New Zealand, Nigeria, Russia, Pakistan, Venezuela, Chile, Brazil, Argentina, Peru, Antigua and Barbuda, Benin,Djibouti,South Africa, Togo,Guyana,Armenia, Kyrgyzstan,and the 10 member countries of the Association of Southeast Asian Nations.






Today's Top News
Top China News

Large oil reserves found in Bohai bay




Taiwan separatists not to be tolerated




China to invest more into basic research




Putin: Is US trying to isolate Russia?




Hu, Chavez see deals inked




Island province planning cross-sea bridge