Large oil reserves found in Bohai bay
By Cui Ning (China Daily)
Updated: 2004-12-23 23:09
Exploration teams have found the Bohai Bay Basin of North China may contain 20.5 billion tons of offshore oil reserves, with 9 billion tons already proven, experts said.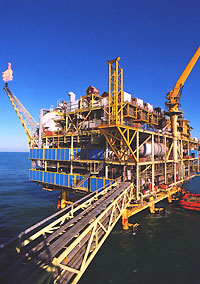 A file photo taken on October 3, 2004 shows the SZ36-1 oil platform in the Bohai Bay. [newsphoto]

The remaining 11.5 billion tons need to be further explored.

The find indicates that total oil resources in place in the basin -- one of China's major oil-producing centres -- could potentially sustain the country's energy needs for a considerably long time, Jin Zhijun, president of the Exploration and Production Research Institute of Sinopec (China Petroleum and Chemical Corporation), said in an interview with China Daily.

Jin added that for a long time to come, the nation can still mainly rely on its domestically produced oil and natural gas to sustain its development.

His conclusion was based on reporting of newly found energy resources.

Such discoveries have proven that marine facies basins, in China, such as the Bohai Bay Basin, have the conditions for hydrocarbon formation and, hence, oil or natural gas resources.

Marine facies, or geologic fossilized mineral content, formed basins from ancient ocean.

The East China Sea, South China Sea and Yellow Sea may all have rich oil resources, according to Jin.

He said China's western land areas also have large potential for untapped oil resources.

The Tarim Basin of Northwest China's Xinjiang Uygur Autonomous Region, for example, may contain over 20 billion tons of oil resources.

In addition, the Kela No 2 Gas field in Xinjiang contains 280 billion cubic metres of natural gas.

The newly discovered Puguang Gas Field in Southwest China's Sichuan Province has more than 100 billion cubic metres of natural gas reserves.

The Ordos Basin in the Inner Mongolia Autonomous Region has 200 billion cubic metres of natural gas.

These research findings are achievements gained under the umbrella of ''973 Programme'' -- a national plan which was approved in March 1997 to heighten basic scientific research.

Under the guidance of this programme, the Research Institute of Petroleum Exploration and Development of PetroChina has gained remarkable achievements in enhanced oil recovery.

The achievements will provide a reliable theoretical basis and technological support for China to explore more oil resources in a large scale, according to the Chief Scientist Shen Pingping.

The increase in oil recoveries by 1 percentage point is equivalent to the finding of an oil field of 500 million tons, according to Jin.

Moreover, State energy-saving policies and the trend of developing new or renewable energy resources can also help meet the demands for energy in this country, Jin said.

China is actively developing hydrogen, wind, solar and biomass energy sources to help provide power needed in economic development and daily consumption.

Scientists have also made breakthroughs in commercializing the use of liquefaction and gasification of coal, which is cleaner and easier to transport compared with the conventional handling of coal energy.




Today's Top News
Top China News

Large oil reserves found in Bohai bay




China to invest more into basic research




Taiwan separatists not to be tolerated




Chavez sees deals inked




Island province planning cross-sea bridge




Search engines urged to reject pornography