Afghan president to announce cabinet
(Agencies)
Updated: 2004-12-23 22:02
Afghan president Hamid Karzai has completed selections for a new Cabinet, heeding a call to remove warlords from key positions and streamline the body, while retaining two of the most recognizable faces in Afghanistan's road to rehabilitation, three government officials said Thursday.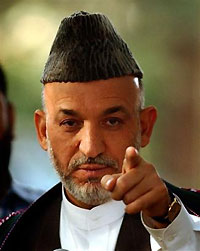 Afghan President Hamid Karzai answers a question during a press conference at the Presidential Palace in Kabul, Afghanistan, in this July 26, 2004 file photo. Karzai won the October presidential election, the first vote since the fall of the Taliban in 2001. [Ruters]

The Cabinet was expected to be officially announced later in the day.

Defense Minister Mohammed Fahim, a prominent Tajik warlord and the head of the northern alliance that helped the United States drive the Taliban from power in 2001, will be replaced by his deputy, Abdul Rahim Wardak, the officials told The Associated Press on condition of anonymity.

Wardak is a Pashtun who made a name for himself as a commander in the 1980s fighting Soviet occupation, then fled abroad as the country descended into civil war.

Finance Minister Ashraf Ghani, a former World Bank official credited with securing large commitments of foreign aid, will be replaced by Central Bank Governor Anwar ul-Haq Ahadi, a longtime Karzai ally. Ghani was likely to take over as chief of Kabul University, according to the officials.

Foreign Minister Abdullah and Interior Minister Ali Ahmad Jalali, both popular in the West, were kept on despite the reshuffle.

The selections are seen as key to how this war-ravaged nation will deal with a myriad of problems, including a destroyed infrastructure, a stubborn Taliban and al-Qaida insurgency and a booming opium trade that accounts for three-quarters of the world's market.

Karzai has pledged to honor a constitutional requirement that all Cabinet members have at least an undergraduate degree, and that they renounce their citizenship in any other countries.

Jalali, a longtime exile in Washington, will have to turn in his U.S. passport to remain in the Cabinet.

Abdullah, an ethnic-Tajik who was the spokesperson for legendary northern alliance leader Ahmed Shah Massood, was kept on despite his decision to back Yunus Qanooni, Karzai's main rival in October elections. Like many Afghans, he uses only one name.

In addition to Fahim, a southern warlord named Gul Agha Sherzai was removed from the Cabinet, where he had been public works minister, the officials said.

Qanooni, who came in second in the elections and had been Karzai's education minister, was also not offered a place in the government.

In addition to the top spots, a new Counternarcotics Ministry was created, with relative unknown Habibullah Qadari believed the most likely candidate to head it. The position will be closely watched to see if Karzai makes good on a pledge to wipe-out opium production. He has recently called for a "holy war" against the multibillion-dollar a year drug trade, and said it is a greater threat to the nation's future than the Taliban or al-Qaida.

Karzai also created the new posts of energy minister and economics minister.

The Cabinet selections have been delayed several times since Karzai was sworn in on Dec. 7 to a five-year term as Afghanistan's first popularly-elected president. Officials said the delays were caused by difficulties in meeting the constitutional requirements on higher education and a provision that says ministers must renounce their citizenship in any foreign country or face a parliamentary vote on their acceptability.

Many of Afghanistan's political elite have acquired U.S. or British nationality while living abroad during more than two decades of near-constant warfare. Some have been reluctant to give up their status, drawing criticism that they lack of faith in Afghanistan's future.

The total size of the Cabinet was expected to be reduced from 29 to about 24.




Today's Top News
Top World News

Large oil reserves found in Bohai bay




Taiwan separatists not to be tolerated




Hu, Chavez see deals inked




Second manned space mission ready in Sept.




China's economic miracle applauded




Putin: Is US trying to isolate Russia?