Putin: Is US trying to isolate Russia?
(Agencies)
Updated: 2004-12-23 20:17
President Vladimir Putin said Thursday that Russia and the United States remain partners and had warm words for President Bush, but he said that he would like to know whether the United States was intentionally seeking to isolate Russia.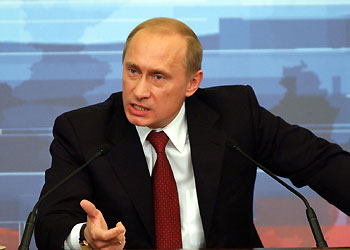 Russian President Vladimir Putin answers journalists' questions during his annual news conference in Moscow's Kremlin, December 23, 2004. [Xinhua]

In a wide-ranging end-of-the-year news conference, Putin said the plan for elections in Iraq, which he said could not be fair amid a continuing U.S.-led occupation. He also assailed the United States for saying that Chechnya wasn't ready for elections even though it was sponsoring elections in Iraq.

"I have strong doubts that it's possible to create conditions for democratic elections (in Iraq) when its entire territory is occupied by foreign troops," he said.

But Putin said his personal relationship with Bush remained strong, but showed irritation about U.S. criticism of the Kremlin's political restructuring proposals, which include an end to direct elections for governors.

The Russian leader took particular exception to a reporter's request for his reaction to a statement allegedly made by Polish President Aleksander Kwasniewski to the effect that "Russia without Ukraine is better than Russia with Ukraine."

Analysts close to the Kremlin have accused Poland of working as a proxy for the United States, which they allege is trying to deepen its influence in Europe and push Poland to the top ranks of the European Union.

"If we interpret this (statement by Kwasniewski) as striving to limit Russia's ability to develop relations with its neighbors, then it means a desire to isolate the Russian Federation," Putin said.

"I don't think that is the goal of U.S. policy," he said, but added he would ask President Bush when they meet in Slovakia in February.

Putin also charged that in Chechnya there is "a policy aimed at creating elements that would destabilize the Russian Federation."

Russia has bristled at Western encouragement of negotiations with Chechen representatives, accusing Western countries of abetting terrorists in the breakaway Caucasus republic. Putin has rejected such talks.

Putin strongly defended the purchase of Yukos oil company assets by a state-owned firm, Rosnfeft, saying the state was protecting its interests. Putin's deputy chief of staff, Igor Sechin, serves as Rosneft's chairman of the board.

"Today, the state ! using absolutely legal, market mechanisms ! is ensuring its interests. I consider this perfectly normal," he said.

Putin said that already developed energy resources would be sufficient for another 45-55 years at the current level of production but that Russia must continue exploring new resources including in eastern Siberia.

"This work is under way. I would like it to be more intensive," he said.

The Ukrainian presidential election, which goes into a third round this weekend, has highlighted tensions between Russia and the West. Putin backed Ukraine's Prime Minister Viktor Yanukovych in last month's presidential runoff, congratulating him even before he was officially declared the winner ! only to see the purported victory canceled because of vote-rigging. The United States and other Western countries refused to recognize the fraud-marred runoff.

But Putin said this week in Germany he could work with opposition leader Viktor Yushchenko if he wins.

Putin said Russians would remember 2004 for the tragedy at Beslan, when terrorists seized more than 1,000 hostages at a school, and said that served as a reminder that Russia and the world must continue to combat terrorism.

"Next year our basic resources will be concentrated on the fight against terror, on strengthening the political system," he said.

Putin also strongly defended the purchase of Yukos oil company assets by a state-owned firm, saying the state was getting its due.

"Today, the state ! using absolutely legal, market mechanisms ! is ensuring its interests. I consider this perfectly normal," he said.

In an apparently secret sale, the state-owned Rosneft oil company bought an obscure company that several days ago purchased Yukos' most important production unit, Yuganskneftegaz, Russian news agencies reported overnight. The deal set the stage for the Kremlin's takeover of the nation's largest oil company following a relentless 18-month official crackdown.




Today's Top News
Top World News

Large oil reserves found in Bohai bay




Taiwan separatists not to be tolerated




China to invest more into basic research




Putin: Is US trying to isolate Russia?




Hu, Chavez see deals inked




Island province planning cross-sea bridge