'Flying Daggers' tops Chinese 2004 box office
(Agencies)
Updated: 2004-12-23 15:15
Zhang Yimou's "House of Flying Daggers" topped Chinese box office records this year, grossing 153 million yuan (18.5 million US dollars), ahead of "Lord of the Rings: The Return of the King."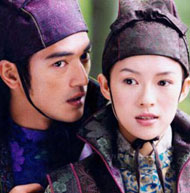 A scene from the kung fu flick "Flying Daggers" directed by world acclaimed Zhang Yimou. [baidu]

Domestic films have now topped China's box office for the past three years.

Last year's top selling movie here was Zhang Yimou's "Hero".

China's budding film industry is expanding at a rapid clip, with 212 movies produced this year compared to 140 in 2003 and 112 in 2002, Xinhua news agency said.

The quality is also improving, evidenced by director Lu Chuan's low budget "Kekexili: Mountain Patrol" becoming the first mainland Chinese film to win best feature at Taiwan's Golden Horse Awards -- the Asian version of the Oscars.

Total box office revenue this year exceeded 1.5 billion yuan (182 million dollars), a 50 percent increase over last year, with Chinese films taking up 55 percent of the market share.

In a bid to protect the local industry, China only allows 20 foreign films to be shown in cinemas each year, although pirated copies of the latest blockbusters are available everywhere.

China's cinema market is considered ripe for investment.

It now has 1,188 cinemas with 2,396 screens, or about one screen for every 650,000 people.

This compares with the more than 30,000 cinemas in the United States.




| | |
| --- | --- |
| | |
| Britney Spears named top star of 2004 | |

| | |
| --- | --- |
| | |
| 'Flying Daggers' tops Chinese 2004 box office | |

| | |
| --- | --- |
| | |
| Angelina Jolie tops the mistletoe kiss poll | |
Today's Top News
Top Life News

Armitage: US not required to defend Taiwan




Baby born in taxi; driver may face fines




Prosecutors closes in on corrupt officials




Costly lessons from the CAO scandal




Domestic firms learn to manage crisis issues




China closes 1,129 porn web sites