London meeting can revive Mideast 'road map' - Blair
(Agencies)
Updated: 2004-12-23 15:14
British Prime Minister Tony Blair said on Wednesday a planned London conference on Palestinian reform would be a critical step toward Middle East peace talks and a Palestinian state.
Blair, speaking after talks with Palestinian and Israeli leaders, was on the highest-level diplomatic mission to the region since Yasser Arafat's death last month, which has revived international peace efforts after years of bloody stalemate.
Both Israeli Prime Minister Ariel Sharon and emergent Palestinian leader Mahmoud Abbas endorsed Blair's plans.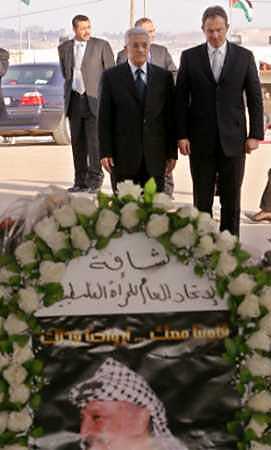 British Prime Minister Tony Blair (R), accompanied by Palestinian leader Mahmoud Abbas, pays respects at the tomb of late Palestinian leader Yasser Arafat in Ramallah, December 22, 2004. Blair nodded briefly toward Yasser Arafat's tomb on Wednesday in what Palestinian officials said was a compromise gesture agreed at the last minute. [Reuters]

But in signs of discord over priorities, when Blair referred at a news conference with Palestinian leaders to the paramount need to "stop terrorism," they pointedly said Israel must also halt settlement building in the occupied West Bank.

Blair told both sides the one-day meeting in early March of U.S., European and U.N. leaders, Arab states and the World Bank aimed to strengthen a moderate, democratic succession to Arafat that could negotiate peace with Israel.

The conference would assess ways to make Palestinian institutions more democratic, less corrupt and equipped to rein in militants who have seized de facto power in the streets and resisted truce proposals from veteran moderates like Abbas.

Blair said the London conference was not intended to supplant the deadlocked "road map" peace plan that U.S.-led mediators hope to revive.

"This is a more modest first step ... getting back into the process of negotiation," Blair told Israeli television.

"What is important is that we can make progress after months and years in which there has been none."

A Foreign Office statement issued in London said the conference would lay groundwork for meetings of aid donors and private investors to help fuel Palestinian reconstruction.

In earlier remarks after talks with Sharon, Blair brushed off suggestions Israel's limited, unilateral plan to evacuate tiny Gaza aimed to forestall a wider West Bank pullout implied by the road map.

"I certainly have understood him (Sharon) to be saying very, very clearly that, provided terrorism stops, disengagement (from Gaza) is not the last word," Blair said.

Sharon agreed, but he has also vowed to keep large West Bank settlements under any conceivable Middle East peace deal.

Blair, echoing the U.S. and Israeli line, said road map talks on a Palestinian state could not bear fruit unless Palestinians put a stop to militant violence beforehand.

"Viability cannot just be about territory, it also has to be about proper (Palestinian) democratic institutions, proper security ..." to persuade Israel it could live alongside a Palestinian state, he said in Jerusalem with Sharon beside him.

Abbas, tipped to win a Jan. 9 election for a successor to Arafat, praised Blair for organizing the conference but said there should be equal pressure on Israel to comply with "road map" requirements.

"We expect from the Israeli side (at the same time) a stop to the expansion of settlements ... We are very keen and concerned to catch up on the time lost from the last few years.

"We think addressing final status issues (for statehood) is extremely important. We are available to start very quickly on (such road map) negotiations," Abbas said.

Sharon has said Israel will not attend the conference and Blair found no problem with that, as it would not take up thorny peace issues such as borders and Palestinian refugees on which the two sides remain far apart.

Diplomats say Blair initially had grander peacemaking designs for the conference but had scaled them back.

Right-wing Sharon has long resisted the idea of international Middle East conferences, fearing they would exert pressure on Israel to quit all of the West Bank and Gaza.

He aims to evacuate all 8,000 settlers from tiny Gaza and a few hundred of the 230,000 in the West Bank next year under a "disengagement" plan. Palestinians see it as a smokescreen behind which he will keep most territory they want for a state.

Arafat, who died on Nov. 11, was reviled by Israel as an "arch-terrorist" and was boycotted by the United States as an obstacle to peace. His once warm ties with Europe also soured.




Today's Top News
Top World News

Baby born in taxi; driver may face fines




Armitage: US not required to defend Taiwan




Prosecutors closes in on corrupt officials




Costly lessons from the CAO scandal




Domestic firms learn to manage crisis issues




China closes 1,129 porn web sites