Christmas mass
By Li Jin (Beijing Weekend)
Updated: 2004-12-23 13:48
All Beijing churches will offer Christmas services for Christians in Beijing. So far, there are eight churches within Beijing. They include the Eastern Church (Wangfujing Catholic Church), Western Church (Xizhimen Church), Southern Church (Xuanwumen Catholic Church), Northern Church (Xishiku Catholic Church), St. Michael's Church, Nangangzi Church, Pingfang Church and Dongguantou Church. Nine other churches are located in Beijing's suburbs.
Here are some details about the four main churches located in downtown Beijing to help you select the right sanctuary for your Christmas mass.
Eastern Church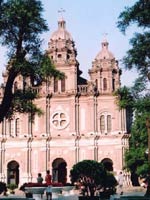 Wangfujing Church

Located east of central Wangfujing Street, the Catholic East Church, or Wangfujing Catholic Church, is one of the best-preserved religious sites in the heart of Beijing.

The present building was rebuilt in 1904 on the ruins of the burned church.

The East Church was originally called Saint Joseph's Church, and was built in the 12th year (1655) of Emperor Shunzhi during the Qing Dynasty (1644-1911).

It was the second Catholic church built in Beijing after Italian preacher Matteo Ricci built the ˇ°South Churchˇ± in southern Beijing at the end of the Ming Dynasty (1368-1644).

In the 1980s, large-scale repairs and maintenance were carried out by the government for East Church.

Occupying an area of 2,387 square metres, the church underwent its latest renovation in May of this year. Beside the church is a front square of 1.2 hectares. Trees and grass were planted and various lighting facilities were installed to show off the gorgeous building at night.

To get there: Take the line one subway to Wangfujing Station. The church is about 500 metres north of the northwest station exit.

Northern Church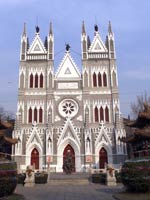 Xishiku Catholic Church

Also called Xishiku Church (or Salvador Church, meaning Christ Church), Northern Church is located west of Zhongnanhai, at Canchikou and west of Ziguang Pavilion, so it is also called Canchikou Church. The sanctuary was later moved to Xishiku Street as Catholic North Church.

Xishiku Church is now the largest Catholic Church in Beijing. The style of the building is in typical Gothic style and it is famous for its grand architecture.

Two pavilions with green glazed tile roofs were built on each side in front of the church with stone columns and stone lions surrounding and guarding the place of worship, adding the architectural style of Chinese gardens.

Built in 1890 by a French mission, the church was formerly the centre of a great complex of schools, orphanages and hospitals. The building has a tall, wide nave with side aisles, octagonal transepts and a huge sanctuary. There are many chandeliers, plus large, painted stations of the cross, antique stained glass and the remains of old wall decorations.
To get there: Take bus routes 103 or 109 to Fuyoujie Station.

Southern Church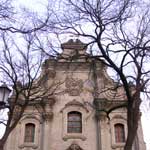 Xuanwumen Church

The oldest Catholic Church in Beijing, the Southern Cathedral, also known as the Cathedral of the Immaculate Conception, is located at 181 Qianmen West Street in the Xuanwumen area.

The church was first erected in the middle of the 16th century on the former site of the Donglin party, a political clique active in the late Ming Dynasty (1368-1644).

When the Italian missionary Matteo Ricci came to China during the reign of Emperor Wanli in Ming Dynasty, the emperor provided him with a residence which stood slightly west of the cathedral.

The cathedral was rebuilt in 1657 during the reign of Emperor Shunzhi of the Qing Dynasty.

The cathedral was severely damaged by earthquakes in 1775 and 1900, and was rebuilt in 1904 to its present form.
The main components of the 100-year-old building remain unchanged with one exception-its wooden support columns have been replaced by brick-and-mortar columns decorated with stone mosaics.

Today the cathedral remains in excellent condition. Masses conducted by more than 10 Chinese Fathers attract an increasing number of Chinese and foreign worshipers every Sunday, and the church is always crowded during Easter and Christmas.

An English service mass is only available at 10 am, December 25.

To get there: Take the loop subway to Xuanwumen Station. The church is a few metres from the northeast exit of the station.

Western Church

The Western Church, located on the southern side of Xizhimen Neidajie, is the youngest church among the four churches.

The Western Church was first established in 1723 and restored in 1912. Because of a pharmacy factory beside the place of worship, it nearly cannot be seen from the street. But delicate Collins pillars and Gothic peaked arches inside the church make it grand, elegant and solemn.

To get there: Take bus route 7, 808, 27, or 105 to the Xitang.

Christmas services at the four churches are:
6 pm, December 24: Mass.
7 pm to 10 pm December 24: Open for all visitors.
11 pm to 1:30 am (next morning): Mass time for Catholics who have entrance ticket. The ticket was offered free of charge before December 23 at the church.
From 6 am to 11 am, December 25: mass will be conducted every hour