Four Palestinians, Israeli killed in shootings
(Agencies)
Updated: 2004-12-23 09:16
Four Palestinians and an Israeli were shot dead in separate incidents of an upsurge of violence in Gaza and the West Bank on Wednesday, military sources and witnesses said.
Three Palestinians were killed in an Israeli raid on a southern Gaza Strip refugee camp. A fourth Palestinian was shot trying to scale a border fence out of Gaza and an Israeli man was killed by a gunman in the West Bank.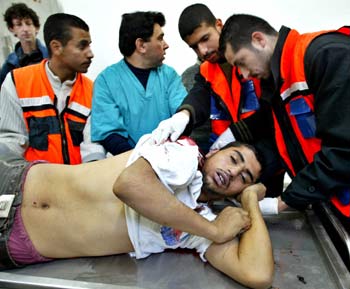 Palestinian medical staff examine the body of Mohammed Abu Nasser, who was shot during clashes with Israeli soldiers near the border between Israel and the Gaza Strip, at the Kamal Edwan hospital in the Jebalya refugee camp north of Gaza Strip, December 22,2004. British Prime Minister Tony Blair said on Wednesday his proposed London conference on Palestinian reform would be a critical step toward peace talks with Israel and an independent state. [Reuters]

Violence has increased following a brief lull after Yasser Arafat's death last month raised new hopes for peace in the Middle East.

Israeli soldiers opened fire in several instances at gunmen during a military raid in Khan Younis refugee camp launched in an effort to stop mortar attacks on nearby Jewish settlements, a military spokesman said.

Medics and witnesses said three gunmen were killed.

Dozens of Palestinian families fled their homes before armored bulldozers arrived. The raid into Khan Younis followed one last week the army said was intended to destroy mortar launch sites in which 11 Palestinians were killed.

"I cannot estimate how much longer we will have to stay there but we are doing our utmost not to harm the civilians in the area," Colonel Yoav Mordechai told Reuters.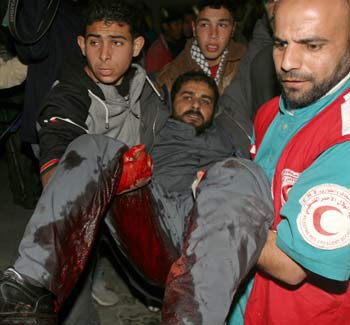 A wounded Palestinian man is carried to hospital after he was injured during an Israeli raid at the Khan Younis refugee camp in southern Gaza Strip, December 22, 2004. Two Palestinian gunmen were killed in exchanges of fire during an Israeli raid on the Gaza Strip refugee camp of Khan Younis, where the army said it was trying to stop mortar attacks on nearby Jewish settlements. [Reuters]

Israel had cut back on military operations in the occupied West Bank and Gaza Strip following Arafat's death, in an apparent bid to bolster a new, more moderate Palestinian leadership before a Jan. 9 election to choose his successor.

But militants have vowed no let-up in their attacks on Jewish enclaves in Gaza as Israel presses ahead with a plan to remove all 21 settlements in the coastal strip and four of 120 in the West Bank in 2005.

Israeli troops shot dead a Palestinian who tried to scale the border fence out of the northern Gaza Strip.

A Palestinian gunman killed an Israeli man west of the city of Hebron, military sources said. Israeli media described the victim as a security guard.

The Al-Aqsa Martyrs Brigades, a militant group linked to the mainstream Fatah movement, claimed responsibility for the slaying. In a statement the group affirmed its "commitment to the option of resistance until the (Israeli) occupation ends."

The Israeli was shot at a point where a controversial barrier Israel is building lies close to the "Green Line" boundary that separated the West Bank from Israel before it was captured in the 1967 Middle East war.

Israel says the barrier it is building inside the West Bank helps to keep out suicide bombers. Palestinians call it an attempt to grab occupied land where they want a state. The International Court of Justice has said the barrier is illegal.




Today's Top News
Top World News

Baby born in taxi; driver may face fines




Snowfall shuts airports, highways




Industrial firms see profit decline




Japan has first case of bird flu in human




Net closes in on corrupt officials




Costly lessons from the CAO scandal