Costly lessons from the CAO scandal
By Cao Desheng (China Daily)
Updated: 2004-12-23 09:06
With mixed feelings, Chen Jiulin returned to his hometown - the village of Baolong in Huanggang of Central China's Hubei Province - to visit his elderly parents on December 4.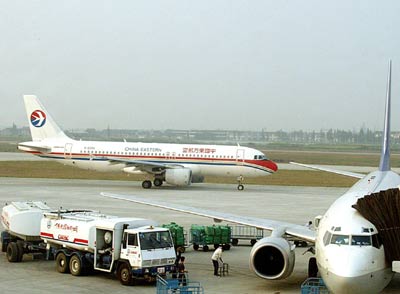 An aviation oil supplier vehicle parks beside a plane. The scandal-hit Singapore-listed China Aviation Oil (Singapore) Corp supplies one-third of China's total jet fuel needs and has a monopoly on such imports. [newsphoto]
To the former chief executive officer (CEO) of the scandal-hit Singapore-listed China Aviation Oil (Singapore) Corp (CAO) - which supplies one-third of China's total jet fuel needs and has a monopoly on such imports - this trip seemed to have a different meaning.
He went to his grandfather's grave - kneeling down and burning incense and offering sacrifices - and said goodbye to his ancestor. He was preparing for a long journey, Caijing magazine wrote.
The last time that he came here was 11 years ago, he remembers.
Just six days before this trip, Chen's company announced it had lost US$550 million in oil derivatives trading, forcing it to seek court protection from creditors.
Derivatives are contracts whose value is tied to another security, such as a stock, bond or commodity. Energy derivatives include futures on oil and oil-based fuels and related options contracts.
Shortly after the disgrace was exposed to the public, Chen was suspended from his post by CAO's Beijing-based parent company, the State-owned China Aviation Oil Holdings Corp (CAOHC), which ordered him to return to China.
On December 1, Chen left Singapore for China. His departure sparked outrage among investors, who demanded he return to the city state to undergo investigations from the Singaporean authorities.
In the wake of the short stay at his hometown, Chen flew back to Singapore on December 8.
When he walked off the plane in Singapore, he was whisked away by a plainclothes police officer. He was released on bail the next day, but is being investigated for possible violations of the Securities and Futures Act.
`I'm not Leeson'
The scandal soon became the focus of attention from both the domestic and international media.
Local media described the case as the city state's biggest trading scandal in nearly a decade after the collapse of Britain's Barings Bank in 1995, when Singapore-based trader Nick Leeson ran up nearly US$2 billion in losses in market gambles.
"The situation facing me is different from Leeson... and I'm not Leeson," Chen was quoted by Beijing-based Caijing Magazine as saying.
If he had another US$250 million, he would have reversed the trend, the 43-year-old son of a Chinese farmer told Caijing magazine. Chen completed his graduate studies in Singapore and became one of the country's highest paid chief executives.
The company sold shares for the first time in Singapore in late 2001.
In a statement to Singapore Supreme Court on November 30, Chen outlined the company's ill-fated venture into options trading that began with initial transactions involving 2 million barrels of oil in the second half of 2003.
The first transactions made a profit, but the worldwide increase in oil prices in 2004 caught CAO's trading team unprepared.
It made bets on the direction of oil prices and ran up losses as New York oil futures surged to a record US$55.67 a barrel on October 25.
Instead of leaving the market and accepting losses of several million dollars, the company raised its bets until it was faced with losses that it could not meet.
The trading loss was close to the company's market value of US$570 million when the shares were suspended on November 29. The stock had fallen 49 per cent since touching a record high on March 23.
"Due to the company's inability to pay, the company's creditor-banks commended the forced closing of a number of derivative contracts," Chen said in the statement posted on the company's official website. "As a result, the potential losses that the company had been facing were transformed into actual realized losses."
His company notified its parent group of its troubles on October 10, Chen said in an affidavit when he was later investigated by the Commercial Affairs Department in Singapore.
But there was no immediate response from the company, he said.
The Chinese parent company was aware of the financial problems on October 20, when it sold a 15 per cent stake in the troubled supplier for US$108 million.
The parent group gave the Company a US$100 million cash injection while it discussed a possible rescue plan with creditors and key shareholders, according to an affidavit signed by Chen.
However, such a loan from the parent group failed to keep CAO from being forced to liquidate trades.
Accumulated losses from trading positions closed between October 26 and 29 totalled about US$390 million, while closing the remaining trades was expected to cost another US$160 million, the statement said.
"If I had committed 1,000 crimes, I would face up to them honestly," Chen was quoted as saying by Singapore's Sunday Times. "I do not blame anyone. I have let the company down... At worst, after a few years, I will return and grow rice."
Poor corporate governance
The future of CAO and its suspended CEO continue to remain unclear.
But analysts said the losses racked up by the company reflect the poor level of corporate governance within its top management.
The scandal is the latest of several to hit the Chinese corporate world as companies with little experience in foreign markets expand their presence abroad, said Lin Yueqin, a researcher from the Economic Institute of the Chinese Academy of Social Sciences.
Complex corporate hierarchies and unreliable accounting, a lack of compliance with rules and limited disclosure makes assessing some Chinese companies a difficult task, he said.
"It's just another example of a company that starts trading without the necessary controls and expertise," he added.
A number of State-owned firms began overseas futures trading in late 1970s. But the business was suspended in the mid-90s after rampant speculation led to a hefty outflow of funds and heavy losses for many companies.
From late 2001, the government has gradually started allowing a few qualified overseas-based companies to trade in oil, grain and non-ferrous metals in order to resume the business.
The companies may take advantage of overseas futures to hedge the risks of price fluctuations in the international marketplace. But they are strictly barred from speculative trading, which, somehow, CAO was dangerously engaged in.
CAO's case also reflects the flaws in the centralized control of some State-owned companies, Lin said.
He said the fallout of CAO can be partly attributed to the lack of a mechanism to restrict Chen's power, which led to the loss of the large sums of State-owned capital.
After the scandal was exposed to the public, critics suspected that CAO lacked a risk-control system. Actually, the system exists, albeit formally, according to Caijing Magazine.
The company has three "safeguards" to ensure that nothing goes wrong in derivatives trading: senior traders, the risk-control committee and the internal auditing department, according to Chen.
However, the system failed to prevent Chen from making decisions when facing great risks in trading.
Lin warned that, as State-owned firms are going out to seek a share of the international market, they must undergo stock-holding reforms beforehand to prevent power from being abused by individuals.
The lack of external supervision from government departments also contributed to the losses, Lin said.
Silver lining
The scandal is likely to prompt regulators to step up enforcement of laws banning Chinese-controlled companies from engaging in speculative trading, experts say.
Supervision is becoming increasingly important as more companies need to engage in the overseas futures market with growing exposure in the international market.
According to Xinhua, Raymond Woo, a senior financial consultant who chairs business operations at Ernst & Young China, said at the annual meeting of State-owned company leaders last week that both management and professionals need to understand business risks.
The key to establishing risk-management mechanisms is to standardize controls and balance power inside companies, Woo said.
"Effective risk-management and crisis-prevention systems would primarily guard against too much individual power in management," Xinhua quoted Woo as saying.
Companies are advised to build early-warning systems, which encourage employees, even low-ranking ones, to find potential risks and report them to management, he said.
Tightening and opening
Following the CAO scandal, the State-owned Assets Supervision and Administration Commission (SASAC) pledged to tighten controls on SOEs.
Li Rongrong, SASAC's minister said at a work conference of the commission last week that the incident at CAO could have been avoided, if there is a sound internal auditing and risk management system.
As part of the new plan, a supervisory committee will be set up to play an increasingly important role in protecting State-owned assets. SASAC is working on a system to track liabilities after investment blunders.
Li also said that a sound corporate governance and effective restraint scheme constitute the two fundamentals for a solid risk-management system.
While analysts ponder what the future holds for the financially-crippled company, they suggest its business troubles may accelerate the sector's opening to greater competition.
It may be an opportunity for the country's oil watchdog to think about relaxing controls over the sector. In fact, some local oil producers have long been interested in entering the sector, according to Zhao Baoling, professor from the Civil Aviation management Institute of China, in an earlier interview with China Business Weekly.
China imports about one-third of the nearly 8 million tons of jet fuel it uses annually. But given the nation's galloping economic expansion, and increasing aviation capacity, its jet fuel demand is growing at a double-digit rate.
On December 11, China announced the opening of its domestic retail oil market in accordance with its World Trade Organization (WTO) commitments.
It is expected to open its wholesale oil market in December 2006.
Although the Chinese authorities have not announced how they plan to open the aviation oil sector, signs of openness have surfaced.
Sinopec Group and China National Petroleum Corp (CNPC) last month signed a deal with CAOHC to secure a share of the latter's domestic jet fuel distribution network. "It is, in fact, a sign of market openness," CAOHC officials said.
To ensure jet fuel supplies, Chinese State trader Unipec, the trading arm of Sinopec, helped to cover jet fuel imports for the remainder of December.
CAO's parent firm also asked Chinaoil - a unit of PetroChina - Sinochem and Zhuhai Zhenrong to take over existing import deals by acting as its import agents.
Today's Top News
Top China News

Baby born in taxi; driver may face fines




Snowfall shuts airports, highways




Industrial firms see profit decline




Japan has first case of bird flu in human




Net closes in on corrupt officials




Official: Drought may hit hard next year