Saudi Arabia recalls ambassador to Libya
(Agencies)
Updated: 2004-12-23 07:57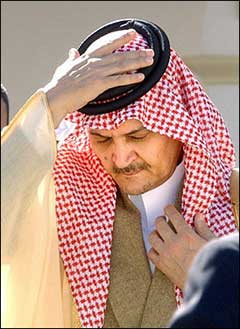 Saudi Foreign Minister Prince Saud al-Faisal seen here November 2004. Gulf Arab foreign ministers will discuss on Sunday Saudi-Bahraini differences over Manama's free trade deal with the United States ahead of their heads of state annual summit, officials said[AFP]

Saudi Arabia recalled its ambassador in Tripoli on Wednesday over what it called an "atrocious" Libyan plot to assassinate the kingdom's de facto ruler, Crown Prince Abdullah.

The Saudi action is the latest sign of a near-collapse in ties between Saudi Arabia and the north African state, which said it was surprised at the move and denied the accusation.

"The procedure we took is to recall the Saudi ambassador from Libya and ask that Libya withdraws its ambassador," Foreign Minister Prince Saud al-Faisal told reporters. "A memorandum will be handed over to the Libyan government today."

Prince Saud said the kingdom's move was a restrained response to an "atrocious" incident.

Libya expressed "astonishment" at the Saudi decision and asked the Arab League to investigate the matter.

"Nothing has happened between the two countries that warranted the withdrawal of the (Saudi) ambassador," the Libyan Foreign Ministry said in a statement.

State Department spokesman Richard Boucher said Tripoli had not yet laid to rest U.S. concerns about the plot, which was an obstacle to dropping Libya from the U.S. list of state sponsors of terrorism and ending related sanctions.

"The Libyans have provided us with some explanation (but) not sufficient for us or any others to reach a definitive judgment on the matter at this point," he said, adding Washington raised the issue with Libya about two weeks ago.

MONEY TRAIL

A U.S. court sentenced prominent U.S. Muslim activist Abdurahman al-Amoudi in October to 23 years jail for illegal financial dealings with Libya and for his role in the plot.

Amoudi said in court documents that he had contacted Saudi dissidents in London on behalf of some Libyan officials to kill the crown prince. Saudi-owned Al Arabiya television said a team of Saudi security officials had met with Amoudi in his U.S. jail where he gave them details of the plot that were similar to information gleaned by the Saudi investigation.

The television did not say when the trip took place.

A Saudi diplomat had told Reuters that Mohamed Ismael, a Libyan intelligence officer, and his four-man team were organising the plot in the holy city of Mecca last year and that a bank account with $1 million had raised suspicion about them.

He said the money trail exposed the team, after which Ismael fled to Egypt, which then extradited him to Saudi Arabia.

Washington, backed by Britain, asked the U.N. on Tuesday to freeze the assets of exiled Saudi dissident Saad al-Fagih, accused by Riyadh of involvement in the assassination plan.

Prince Saud said the request was connected to the "Libyan conspiracy ... the kingdom has suffered from."

Fagih's London-based Movement for Islamic Reform in Arabia, which says it aims to topple the monarchy by peaceful means, recently called for anti-government demonstrations in the kingdom. They failed to materialize after authorities took sweeping security precaustions.

The United States has listed Fagih as a "specially designated global terrorist" and accused him of supporting al Qaeda and its leader Osama bin Laden.

The U.S. investigation into the plot began as Washington and London were welcoming back into the international community their long time adversary, Libyan leader Muammar Gaddafi, after he decided to dismantle his illegal weapons of mass destruction.




Today's Top News
Top World News

Baby born in taxi, driver may face fines




Snowfall shuts airports, highways




Industrial firms see profit decline




Net closes in on corrupt officials




Official: Drought may hit hard next year




Saudi Arabia recalls ambassador to Libya