Baby born in taxi; driver may face fines
By Wu Chong (China Daily)
Updated: 2004-12-22 01:38
A speeding taxi driver who may have helped a pregnant woman and the baby she gave birth to in the cab, is hoping to avoid heavy fines for running red lights on the way to the hospital.
Gao Haijun was stopped Sunday morning by an anxious couple.
"The woman was about to give birth," Gao said.
Gao rushed the couple to the closest delivery ward, at the Beijing Friendship Hospital, half an hour away.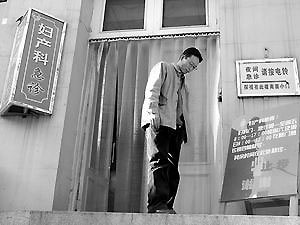 Gao Haijun feels jaded as he failed to find the doctor who treated the woman that day.

Despite the light traffic, he ran several red lights, lights with cameras installed to spot precisely that offense.

"The woman was crying so loud in my car that I could hardly give a second thought but drove on," said Gao, who works for Xinyue United Company and has been driving for four years.

On arriving at the hospital, Gao saw the woman had already delivered the baby.

Gao left the hospital only after learning both mother and baby were safe and without collecting his fare.

But now he fears he may have to pay for his good deed.

The cameras on the traffic lights may have registered his car and the fines will come.

Running a red light carries a fine of 200 yuan (US$24) and three points, according to traffic law. A driver that loses 12 points in one year has his licence suspended.

According to officials, it takes 10 days to process the tapes from the cameras.

Aware of the consequences of breaking the rules, Gao approached a newspaper in Beijing, the Beijing Times. He is hoping authorities will take the circumstances into consideration.

"But if they insist on the punishment, I will also accept it," said the driver, who earns about 2,000 yuan (US$241) a month.

According to the Beijing Traffic Control Bureau, whoever breaks traffic rules should be punished, regardless of circumstances.

"Unlike ambulance or police cars, taxis are never authorized to run lights at will," said an anonymous senior officer.

However, there is still the possibility of lighter fines.

He said Gao can apply for a punishment exemption with strong proof from the hospital.

Yi Yanyou, an expert of law with Tsinghua University, said the law always comes first, regardless of emergencies.

But he also agreed the authorities should consider mitigating the punishment since "laws allow special tolerance when dealing with reality."

Xinyue United Company, the cab company Gao works for, said he will not be penalized.

Normally the company charges drivers who break the rules 20 per cent of whatever fine they have to pay.

Now Gao is hoping to find the couple for further proof of what happened.

"The woman, named Zhao Mingluo, left the hospital in the afternoon with her baby and husband, leaving no way to contact them," said Guan Yanming, a nurse who rushed out of the hospital to help the mother and child. Guan said this case was so special and the driver should be exempted. The couple are both migrants.

There is always a possibility that the driver may have knocked down pedestrians or other cars when he ran the lights, he said.

"That would also risk the woman's life," said Yi.

However, he also agreed the authorities should consider mitigating the punishment since "laws allow special tolerance when dealing with reality."

"The company always encourages upright behaviour," said Zhu Jiang, Gao's boss.

Zhu said he will talk with related authorities to try to reduce the punishment.

But Zhu, Yi and the Beijing Traffic Control Bureau all said the driver could have avoided the problem by calling an ambulance or a patrol car.

Two offered to pay fines for driver

Gao has managed to got into contact with the couple who promised to pay the fine if the traffic control authorities handed out a punishment to Gao, according to the Beijing Times.

A close friend of the couple told the paper: ĦħMr. Gao was not breaking the rules for his own benefit. Instead, he was doing a good deed. Moreover, the pregnant woman was in danger then. No one will do such a good deed if Gao is fined.Ħħ

A man surnamed Tian, head of a Beijing technical advisory company called the newspaper, offering to pay the fine for Gao.

Mr. Tian noted that: ĦħMr. Gao should not be punished for his unselfishness. The reason we offered to pay the fine for him was to encourage such acts in the society.Ħħ




Today's Top News
Top China News

Baby born in taxi; driver may face fines




Armitage: US not required to defend Taiwan




Prosecutors closes in on corrupt officials




Costly lessons from the CAO scandal




Domestic firms learn to manage crisis issues




China closes 1,129 porn web sites