China closes 1,129 porn web sites
(Xinhua)
Updated: 2004-12-22 23:05
China has closed 1,129 pornographic web sites since the nationwide crackdown began this July, according to Internet Society of China (ISC) here Wednesday.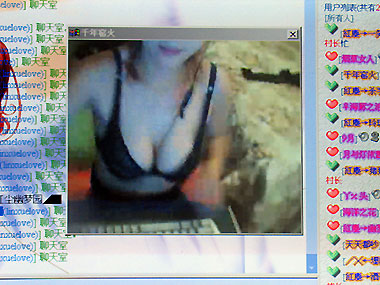 A snapshot shows a porn chatting website luring business with a nearly naked woman. The photo was taken on July 18, 2004[newsphoto]

Since the web site, www.china.cn was opened June 10 by the ISC, it has received 95,000 reports of pornographic and other illegal web sites.

The related departments have closed 1,278 illegal web sites and 114 sites promoting gambling, superstitious activities and cult propaganda according to the information provided by the informers.

With the closures, the on-line reports on the illegal web sites have declined to 17.4 percent from 67 percent when the crackdown began.

The government will now shift its focus to other illegal web sites including those for gambling and superstitious activities.

China's Ministry of Public Security rewarded a number of informers since China launched a nationwide campaign to crack down on the illegal on-line operations. Their information has also helped to uncover 254 criminal cases and capture 445 suspects.




Today's Top News
Top China News

Baby born in taxi, driver may face fines




Snowfall shuts airports, highways




Industrial firms see profit decline




Net closes in on corrupt officials




Official: Drought may hit hard next year




Network to track vagrants to start