Prosecutors closes in on corrupt officials
By Hu Cong (China Daily)
Updated: 2004-12-22 22:57
Prosecutors netted thousands of corrupt and negligent officials this year, a sign the prosecutor's offices are enforcing their supervisory powers.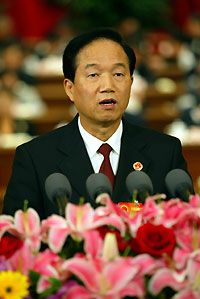 Procurator-General Jia Chunwang delivers a speech at the 4th plenary meeting of the Tenth Natinoal People Congress the second meeting in Beijing on March 10, 2004. [newsphoto]

In the first 11 months of this year, prosecutors nationwide have conducted pre-indictment investigation on some 36,509 cases of graft, dereliction of duty and other crimes by State employees, recovering 3.83 billion yuan (US$463 million) of direct economic losses, the Supreme People's Procuratorate announced at a national work meeting in the southern city Haikou.

These cases involved 42,225 State employees including 2,856 officials above the county level, compared to the 41,797 investigated State personnel in the year-earlier period.

Procurator-General Jia Chunwang said prosecutor's offices of the country have been focusing on "strengthening supervision and safeguarding justice."

"Fighting crimes by State department personnel is a key task of the procuratorate, and the dynamic of its investigation will in a way help deter the occurrence of such offenses," said Chen Weidong, a law professor of Beijing's Renmin University of China, in a interview with China Daily.

Criminal cases are usually investigated by the public security department, whereas procuratorates review results and decide whether to indict the suspects.

But the law entitles the procuratorate to directly investigate graft cases and cases in which State personnel neglect their duty or infringe on citizens' personal or democratic rights by taking advantage of power.

The procuratorate also supervises the performance of public security departments and courts in litigation..

This year by the end of November, procuratorates have re-examined 19,189 cases investigated by public security departments, with 2,453 of them revoked, according to the Supreme People's Procuratorate.

They triggered second trials of 2,740 criminal and 11,898 civil and administrative cases by lodging protests on the rulings made in the first instance. Some 3,944 concluded suits were asked to be reheard because of prosecutors' questioning.

Thanks to its consistent efforts to sort out cases where suspects are held in extended custody, now there is no extended custody nationwide as far as prosecutorial links are concerned, according to the Supreme People's Procuratorate.

"The exercise of prosecutorial supervision is an important means to defend justice and protect human rights," said Chen.




Today's Top News
Top China News

Baby born in taxi; driver may face fines




Armitage: US not required to defend Taiwan




Prosecutors closes in on corrupt officials




Costly lessons from the CAO scandal




Domestic companies learn to manage crisis issues




China closes 1,129 porn web sites