Blast at US mess tent in Iraq kills 22
(Agencies)
Updated: 2004-12-22 17:29
The U.S. military launched an investigation Wednesday into the cause of a devastating blast in a mess tent at a base in northern Iraq that killed 22 people and injured 72 in one of the deadliest attacks on American troops since the start of the war.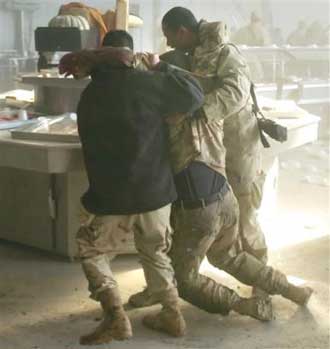 U.S. soldiers tend to the wounded after an apparent insurgent mortar attack on a dining facility during lunchtime on FOB Marez in Mosul, Iraq on Tuesday, Dec. 21, 2004. The attack killed 20. [AP]

Initial reports said that a 122 mm rocket ripped through the ceiling of the tent, spraying shrapnel as U.S. soldiers sat down to lunch Tuesday in their Forward Operating Base Marez in Mosul, some 225 miles north of Baghdad.

But, a radical Sunni Muslim group, the Ansar al-Sunnah Army, which claimed responsibility for the attack, said it was a "martyrdom operation" ! a reference to a suicide bomber ! that targeted the mess hall.

"We are still investigating what caused the explosion," Capt. Dorren Luke, a U.S. military spokesman in Baghdad, said Wednesday.

The dead included 18 Americans ! 14 servicemembers and four U.S. civilian contractors ! and four Iraqis, the U.S. military command in Baghdad said Wednesday. Of the 72 wounded, 51 are U.S. military personnel and the remainder are American civilians, Iraqi troops, and other foreigners.

Halliburton Co., a Houston-based company whose subsidiary Kellogg Brown & Root supplies food service and other support activities for U.S. troops in Mosul, said seven of its workers were killed. Halliburton did not give the nationalities of the dead but they apparently included the five American civilians. The two other deaths, if correct, would boost the overall toll to 24.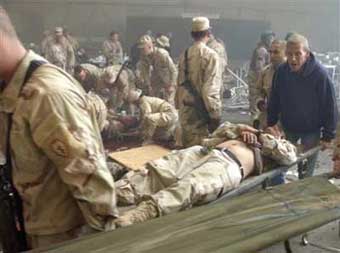 Workers and U.S. soldiers tend to the wounded after an apparent insurgent mortar attack on a dining facility during lunchtime on FOB Marez in Mosul, Iraq on Tuesday, Dec. 21, 2004. [AP]

At the military hospital near Mosul airfield, doctors and orderlies treated dozens of soldiers for burns, shrapnel wounds and damage to their eyes.

"This is the worst we have seen in the 11 months since we have been here," said Master Sgt. David Scott, chief ward master for the hospital.

It was the latest in a week of deadly strikes across Iraq that highlighted the growing power of the insurgents in the run-up to the Jan. 30 national elections.

US President Bush said the explosion should not derail the elections and that he hoped relatives of those killed know that their loved ones died in "a vital mission for peace."

"I'm confident democracy will prevail in Iraq," he said.

Mosul, Iraq's third-largest city, was relatively peaceful in the immediate aftermath of the fall of Saddam Hussein's regime last year. But insurgent attacks in the largely Sunni area have increased dramatically in the past year ! particularly since the U.S.-led military offensive in November to retake Fallujah from militants.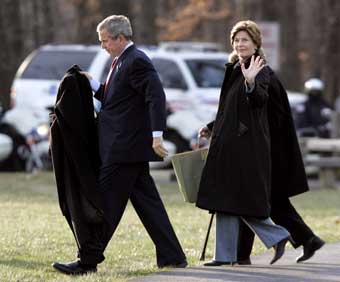 U.S. President George W. Bush and first lady Laura Bush walk to Marine One after a visit with wounded soldiers at Walter Reed Army Medical Center in Washington, December 21, 2004. The President and first lady were flying to Camp David where they will spend Chirstmas. [Reuters]

Early Wednesday, the U.S. troops blocked Mosul's five bridges over the Tigris River that link the western and eastern sectors of the city. As warplanes flew overhead, U.S. soldiers could be seen conducting sweeps through the eastern neighborhoods of Muthanna, Wahda and Hadabaa.

In a sign of the of the simmering tensions, most schools in the city were closed and few cars and people could be seen on the streets. Even traffic policemen were not at major intersections as usual.

Mortar attacks on U.S. bases, particularly on the huge white tents that serve as dining halls, have been frequent in Iraq for more than a year. Just last month, a mortar attack on a Mosul base killed two troops with Task Force Olympia, the reinforced brigade responsible for security in much of northern Iraq.

With people screaming and thick smoke billowing, soldiers turned their lunch tables upside down, placed the wounded on them and gently carried them into the parking lot, said Jeremy Redmon, a reporter for the Richmond (Va.) Times-Dispatch embedded with the troops in Mosul.

Redmon said the dead included two soldiers from the Richmond-based 276th Engineer Battalion, which had just sat down to eat. The force knocked soldiers off their feet and out of their seats as a fireball enveloped the top of the tent and shrapnel sprayed into the area, Redmon said.

Scores of troops crammed into concrete bomb shelters, while others wandered around in a daze and collapsed, he said. "I can't hear! I can't hear!" one female soldier cried as a friend hugged her.

Sgt. Kyle Wright said he was about to take a bite of chocolate cake when the blast knocked him out of his chair. Two other Virginia National Guardsmen picked him up and rushed him out of the chow-hall tent on Forward Operating Base Marez.

"I kind of went into the air," Wright said as he lay in a hospital near Mosul airfield, recovering from wounds to his leg and back. "When I came to, I looked up and I saw open sky."

The Ansar al-Sunnah Army, which claimed the responsibility for the blast, is believed to be a fundamentalist group that wants to turn Iraq into an Islamic state like Afghanistan's former Taliban regime. The Sunni group claimed responsibility for the execution of 12 Nepalese hostages and other recent attacks in Mosul.

Mosul was the scene of the deadliest single incident for U.S. troops in Iraq. On Nov. 15, 2003, two Black Hawk helicopters collided over the city, killing 17 soldiers and injuring five.

Meanwhile, the International Committee of the Red Cross said Wednesday its experts visited the devastated town of Fallujah to assess the humanitarian situation there ahead of a planned return of some 250,000 civilians that is to start this week.

Water purification plants in Fallujah remain dysfunctional after the U.S.-led offensive that left the city in ruins, and returning displaced families will have to depend on mobile tanks, said Ahmed Rawi, an ICRC spokesman.

And unknown gunmen shot dead an Iraqi police officer in Baqouba, northeast of Baghdad, Sgt. Hussein Hassan said. The assailants stole the victim's pistol before fleeing.




Today's Top News
Top World News

Anti-secession law seeks peaceful reunification




Many foreigners in Shanghai classrooms




Healthcare umbrella to cover farmers




Listing rings in media changes




Blast at US mess tent in Iraq kills 22




China to lower import tariff to 9.9%