Nike's dragon-insulting ad sparks controversy
By Li Jian (Shanghai Star)
Updated: 2004-12-22 15:46
Nike's news ads showing NBA star LeBron James battling a cartoon kungfu Master and dragons has invoked great controversy in China.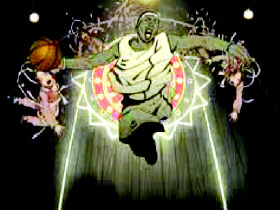 Two women in traditional Chinese attire are defeated by LeBron James in the Nike TV commercial. [sohu]
China banned the ads, describing them as an insult to the country's national dignity. The commercial, titled "Chamber of Fear" was broadcast on local TV stations and CCTV 5, the national television sports channel, before being pulled last month.
The ad was also available for downloading online and topped all flash animations and movies in popularity.
It shows James, the Cleveland Cavaliers' rookie of the year, defeating kungfu masters, two women in traditional Chinese attire and a pair of dragons. All the traditional Chinese figures in the commercial are depicted as impediments to James and they are defeated in five different rooms in a basketball game with James. In the commercial the feitian - a Chinese sacred woman who flies through the sky - is shown as a vicious woman who tries to seduce James.
"The advertisement violates China's regulations on ads and commercials which mandate that all advertisements and commercials in China should uphold national dignity and interests and respect the motherland's culture," the State Administration for Radio, Film and Television said on its official website.
"It also goes against rules that require ads not to contain content that blasphemes national practices and cultures."
The statement also said: "The ad has received an indignant response from Chinese viewers."
Maurice Zhou, a spokesman in Shanghai for Nike Inc, based in Beaverton, Oregon, said the company had no response except to say that it "respected the government's decision."
"We respect and comply with the Chinese Government's laws and regulations," he said.
Media companies refused to comment on the ban.
"The ads shocked me when I saw LeBron James beating Chinese dragons and the sacred feitian symbols," said Yang Xiling, a NBA fan who saw the commercial during the break period of the NBA game. "I felt I was being defeated too, along with the whole Chinese people," said Yang.
Heated discussion about the commercial has choked online forums.
"The ad leaves me with the impression that American culture wins against Chinese culture. Most of my friends share this impression. I know Nike does not mean to insult us, but the commercial has been a real torment for me," said Zhang He, a Shanghaiese working in a foreign-invested company.
Kungfu fan
Nike made the ads for James' Air Zoom LeBron II sneakers. The ad was based on films featuring martial arts icon Bruce Lee. James is a big fan of Lee.
"It was not intended to hurt anybody or any culture or anything like that," James told the Associated Press after practice in Cleveland on December 6. "We put the ads together basically for kids."
James said he was disappointed the ad was pulled, since this will prevent some of his fans from seeing him.
"That's big. I need as many fans as I can get," he said.
James, who signed a seven-year deal with Nike, hopes to have things patched up with his Chinese fans in time for the 2008 Beijing Olympics.
"I'll be there in 2008, so maybe they'll love me a little more when I get there," said James, who played for the US Olympic team this summer in Athens but failed to win a gold medal.
Culture conflict
"This commercial was always likely to provoke dispute in China," said Yao Ming in an after-game interview on December 9. "So it didn't surprise me when I heard it had been banned and widely criticized by Chinese people, especially youngsters."
"It is a cultural conflict. In China, the dragon is the symbol of China and Chinese culture and the feitian - the flying woman - is regarded as sacred and holy. They are not respectfully treated in the Nike commercial," said Yao.
Yao clearly understands how cultural conflict can have a great impact. The NBA All-Star centre himself had the experience of adjusting to American culture when he arrived in the US to play in the NBA.
"My modesty is often regarded as cowardice. But Chinese tradition has taught me not to be aggressive. Yet aggression is valued on the basketball court of the NBA," said Yao.
"Conflict will occur when you are ignorant about another culture and things will be even worse if you take too much for granted," said Professor Gu Donghui, a sociology expert at Fudan University. "For example, many foreign Chinese calligraphy-lovers like to wear shirts bearing Chinese characters. I once saw a foreign girl wearing a T-shirt with the Chinese character ji on it. She knew ji meant chicken in Chinese, but she did not know it also means prostitute," said Gu.
"I saw that some NBA players like to have Chinese characters tattooed on their bodies. But most of them mean nothing. Kenyon Martin's tattoo means passiveness and silly-sally," said Yao.
No laughing matter
Insulting a dragon in China is no laughing matter.
A Nippon dragon ad raised the national ire when Leo Burnett Shanghai Advertising, a Sino-US joint venture, created a presentation for Nippon Paint showing a freshly-painted pillar whose twisting dragon, unable to keep its grip because Nippon Paint was so smooth and silky, ends up in a coil at the bottom.
Leo Burnett Shanghai Advertising (Guangzhou) stated: "It is a creative presentation rather than an advertisement."
"Although ads are creative products, this does not mean ad makers can just seek inspiration from dragons and feitian at will," said Xia Xuelan, sociology professor from Beijing University. "That is a cultural invasion. More and more ads made by the international advertising companies are appearing on TV and other media in China. There is no doubt misunderstanding will occur because of cultural differences."
The State Administration for Radio, Film and Television announced on December 8 that censorship of commercials and ads would be strengthened.
"The censorship will be focused on creative content and imagery of the ads," said Ren Qian, vice director of the Social Publicity Department of the State Administration for Radio, Film and Television.
Today's Top News
Top China News

Anti-secession law seeks peaceful reunification




Many foreigners in Shanghai classrooms




Healthcare umbrella to cover farmers




Listing rings in media changes




IPR violators deemed major criminals




Government coffers in with solid surplus