Blair visits Middle East in peace drive
(Agencies)
Updated: 2004-12-22 15:46
British Prime Minister Tony Blair meets Israeli and Palestinian leaders on Wednesday, raising the level of international efforts to revive Middle East peacemaking following Yasser Arafat's death.
Blair, who wants to host a Middle East conference in London in February on strengthening a new Palestinian leadership after a Jan. 9 presidential election to choose Arafat's successor, arrived in Israel after a surprise visit to Iraq on Tuesday.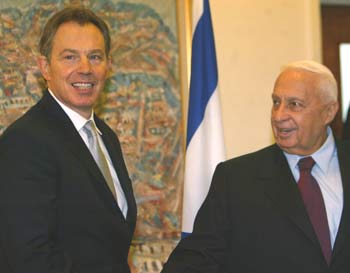 British Prime Minister Tony Blair meets Israeli Prime Minister in Jerusalem December 22, 2004. British Prime Minister Tony Blair meets Israeli and Palestinian leaders on Wednesday, raising the level of international efforts to revive Middle East peacemaking following Yasser Arafat's death. [Reuters]

He was to meet Israeli Prime Minister Ariel Sharon in Jerusalem and hold talks in the West Bank city of Ramallah with Palestinian leaders Mahmoud Abbas -- frontrunner in next month's poll -- and Ahmed Qurie.

Blair's one-day visit is the highest-level diplomatic mission to the Palestinian territories since Arafat, regarded by Israel and the United States as an obstacle to peace, died of an undisclosed illness in a hospital near Paris on Nov. 11.

A string of foreign ministers, including Secretary of State Colin Powell and Britain's Jack Straw, have visited the area over the past two months, the vanguard of an international drive to revive a violence-stalled peace "road map."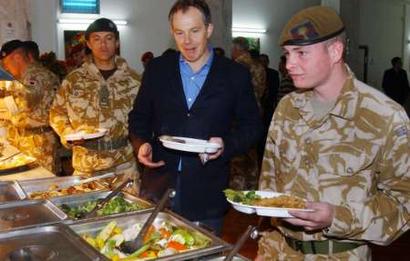 British Prime Minister Tony Blair (C) has dinner with British soldiers at a military camp in the southern Iraq city of Basra December 21, 2004. Blair acknowledged the grave dangers in Iraq when he made a surprise visit to Baghdad on Tuesday, but the British Prime Minister vowed that the war against insurgents would be won and elections held on time. [Reuters]

The plan, sponsored by the United States, the European Union, the United Nations and Russia, charts reciprocal steps toward a Palestinian state alongside Israel.

Blair has made a resumption of Israeli-Palestinian peace efforts a foreign policy priority for London while promising to strive to ensure that US President Bush -- the only outsider with real influence -- remains engaged.

CONFERENCE TO SUPPORT PALESTINIAN REFORM

Britain's proposed London conference has received a lukewarm response in Israel, which said it backed the forum's stated aim to support Palestinian political, financial and security reforms but would not attend.

Sharon has long resisted the idea of international Middle East conferences, fearing they would be a forum for putting pressure on the Jewish state to make what he sees as dangerous concessions on security.

"Its main purpose would be to work out how the international community can better support as it were the 'day after'," a senior British official said, referring to Israel's planned withdrawal from the occupied Gaza Strip by the end of 2005.

Palestinian Foreign Minister Nabil Shaath said Palestinian leaders would ask Blair for more details about the conference.

"We are favorable to any conference that will help the Palestinian people and will support the peace process based on ... full implementation of that road map," Shaath told reporters.

Blair will meet Palestinian leaders in the half-demolished Muqata compound where the Israeli army confined Arafat in his final years before he died at the age of 75 in November.

During his visit, Blair is likely to urge Sharon to smooth the Palestinian ballot as promised by pulling troops from Palestinian cities, and press the two sides to coordinate the Gaza pullout as a step toward peace talks.

In a meeting on Tuesday with visiting World Bank chief James Wolfensohn, Sharon said he was interested in security contacts with the Palestinian Authority.

"It depends to a large degree on a Palestinian war against terrorism," Sharon's office quoted him as saying.

Abbas has called Palestinian violence in a four-year-old uprising a mistake, pressing militant groups for a cease-fire and Israel for renewed talks on statehood.




Today's Top News
Top World News

Anti-secession law seeks peaceful reunification




Many foreigners in Shanghai classrooms




Healthcare umbrella to cover farmers




Listing rings in media changes




IPR violators deemed major criminals




China to lower import tariff to 9.9%