Respected Chinese director takes to martial arts
(Agencies)
Updated: 2004-12-22 09:46
Top Chinese filmmaker Zhang Yimou is tackling martial arts subjects these days with such enthusiasm that one critic swears that knives, swords and spears fly through his latest film with the force of "Fatal Frisbees."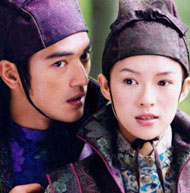 A scene from the kung fu flick "Flying Daggers" directed by world acclaimed Zhang Yimou. [baidu]

But Zhang says his climb to the top of the martial arts film craze with "House of Flying Daggers," which is playing in some U.S. cities and follows Zhang's successful martial arts film "Hero," is filled with irony.

Because he grew up during China's Cultural Revolution, it was a crime to see or even read about kung-fu or wu xia martial arts.

As a result, he didn't see a Bruce Lee movie until 1979 and to date has only seen about 15 martial arts films.

"It's not that I don't like the films," Zhang told Reuters during a recent visit to Hollywood, "But growing up during the Cultural Revolution, we never saw these films and it wasn't until film school that I learned about Bruce Lee movies and watched wu xia martial arts films."

Earlier this year, Zhang's "Hero," starring Jet Li, grossed $155 million worldwide and $53.5 million in the United States. He hopes to eclipse that success with "House of Flying Daggers," which celebrate wu xia martial arts.

Originating in Shanghai in the 1920s, wu xia films are a genre of martial arts hero movies soaked in traditional tales and legends of superhuman swordsmen with many based on novels banned during the Cultural Revolution.

"When I was 17, my friends and I secretly read one kung-fu novel knowing that if we were caught, us and our families would be punished so we tore the book apart and secretly exchanged pages so none of us got to read it in order," Zhang said.

Zhang, one of China's most respected directors, said his generation of filmmakers was brought up making social and artistic dramas, unlike the martial arts films made in Hong Kong that were pure entertainment and big at the box office.

"But times have changed," he said. "The Chinese economy is better, more business, people want entertainment, box office numbers are important and now it seems there's almost a cultural obligation to make these kinds of films."

Zhang made his directorial debut with "Red Sorghum" (1987) and received critical acclaim for "Raise the Red Lantern" (1991).

"Flying Daggers" takes place during the last years of the Tang Dynasty in the 9th century when an underground rebel alliance known as The House of Flying Daggers is fighting corrupt government leaders.

SACRIFICE

Twenty-six-year-old Zhang Ziyi who starred in "Crouching Tiger, Hidden Dragon" and had a supporting role in "Hero," stars in "Flying Daggers" as a blind brothel dancer who has ties to the insurgents.

In China, some criticize her for her quick success, but she appears to be headed for international stardom having won the lead role in the upcoming U.S. film "Memoirs of Geisha."

Zhang said Chinese audiences criticized her for being too young -- only 26 -- to be that successful and claim her rise was due to luck, not talent.

But he rejected those arguments, saying, "They've forgotten to look into her to see that she's worked hard. Even if you get a chance by luck, if you have no talent and don't work hard, you'll fail."

Zhang began writing "Flying Daggers" while shooting "Hero." He said that while both films were about sacrifice, they were different stories.

"Hero" is about sacrificing for righteousness and in line with the traditional Chinese philosophy and culture. But he said in his new film "the characters are capable of extremes of love and hatred and are willing to sacrifice their traditional values in order to achieve their own individual ends."

With a budget of $20 million and shot in the Ukraine and China, Zhang worked 18-hour days, seven days a week, for four and a half months. Ten days after filming was complete, the first raw cut of the film was ready for viewing.

"Wu xia films are hard to make, take a long time and are expensive, so I'm taking a break from doing them and maybe if the right script comes along I'll come back to them," he said.

"I also try to emphasis emotion, love, romance and human nature because regardless of nationality, these are all universal."




| | |
| --- | --- |
| | |
| Miss Model of World China competition | |

| | |
| --- | --- |
| | |
| China braces for first Miss Plastic Surgery | |

| | |
| --- | --- |
| | |
| The premiere of "Kung Fu Hustle" | |
Today's Top News
Top Life News

Anti-secession law seeks peaceful reunification




IPR violators deemed major criminals




Government coffers in with solid surplus




Listing rings in media changes




China to lower import tariff to 9.9%




Heavy snow to fall across China