Records show US detainee abuse cover-up
(Agencies)
Updated: 2004-12-22 09:19
American commanders in Iraq prevented an autopsy on a detainee who died in U.S. custody with multiple wounds, an Army document made public on Tuesday showed, in a case that rights activists said suggested a prisoner abuse cover-up.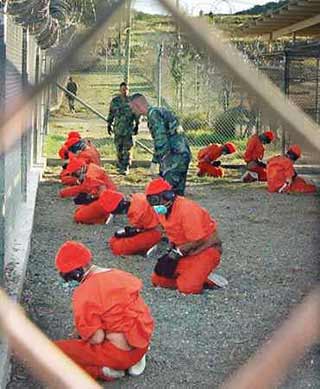 The White House said on December 21, 2004 it expected a full investigation of prisoner abuses in Iraq and Guantanamo Bay, Cuba after new FBI memos described detainees facing beatings and having lit cigarettes placed in their ears. 'If there is abuse that occurs, we expect it to be investigated fully and people to be held accountable, and measures taken to make sure that it doesn't happen again,' White House spokesman Scott McClellan said. Guantanamo detainees are seen in this January 11, 2002 file photo. [Reuters]
The December 2003 death of Abdureda Lafta Abdul Kareem at a U.S. prison near Mosul was described in one of dozens of Army documents released by the American Civil Liberties Union. The group, which has been sharply critical of the Bush administration over the detainee abuse issue, obtained the documents through the Freedom of Information Act.
The ACLU said the documents revealed cases in which U.S. commanders in Iraq thwarted military investigations into the deaths of prisoners held in Iraq. The U.S. government has faced criticism at home and abroad over the treatment of prisoners in Iraq, Afghanistan and the naval base at Guantanamo Bay, Cuba.
A Jan. 1, 2004, memo written by Army criminal investigators said 44-year-old Abdul Kareem appeared to be healthy when captured the previous month. But he was discovered dead in his cell only days after being imprisoned, the memo stated.
A medic who examined his body saw multiple wounds, including a head laceration, internal bleeding, bruising on his abdomen and a clear fluid in his right ear. The body was sent to Baghdad for an autopsy to determine the cause of death, but the battalion and group command blocked the procedure without explanation.
"The investigation could not determine the cause of death without the benefit of a forensic autopsy," the memo stated.
Another memo from Army criminal investigators dated Nov. 23, 2003, said Obed Hethere Radad, a prisoner held in Tikrit, was fatally shot without warning by a U.S. Army soldier using an M16 rifle last year on the second anniversary of the Sept. 11, 2001, attacks.
Rather than allowing Army criminal investigators to handle the case, an Army commander quickly convened a legal proceeding that resulted in the soldier being demoted in rank and discharged from the military, the memo showed. There was no autopsy and no crime scene evidence was collected.
Criminal investigators eventually found probable cause to charge the soldier with murder but could not because he had left the military, the memo added.
'Covered Up'
"The facts of these two cases suggest that some incidents of detainee abuse, including serious abuse, may have been covered up," said Jameel Jaffer, an ACLU lawyer. In recent weeks, the ACLU has released scores of documents obtained from the government describing prisoner abuse by U.S. forces.
The documents released on Tuesday also described cases in which soldiers were charged by the military and convicted of abusing detainees.
For example, a soldier was convicted and reduced in rank after being accused of forcing a detainee to hold a pistol to provide an excuse for shooting the prisoner in June 2003. Another five soldiers were convicted for beating detainees in September 2003 at a base in Baghdad.
"There are some cases in which the investigations seem to have gone as they should have. Then there at least a handful of cases in which there is some evidence the investigation was short-circuited by the commanders," Jaffer said.
"But even in the cases where military justice worked in some sense, there is still the question of how we got to this point. Why is it that abuse is so widespread? For the answer to that question, you have to look not only to the soldiers, but also to the commanders and to the policymakers," Jaffer added.
Col. Joe Curtin, an Army spokesman, said, "Any allegations of detainee abuse are investigated. Commanders are entrusted with the authority under the Uniform Code of Military Justice to investigate and prosecute cases as they see fit. It's inappropriate for me to comment on any particular case."
Today's Top News
Top World News

Anti-secession law seeks peaceful reunification




IPR violators deemed major criminals




Government coffers in with solid surplus




Listing rings in media changes




China to lower import tariff to 9.9%




Heavy snow to fall across China