Blair, on Surprise visit to Baghdad, backs election
(Agencies)
Updated: 2004-12-22 08:11
Protected by U.S. Black Hawk helicopters, Britain's Tony Blair flew into Iraq on Tuesday in a surprise show of political bravado designed to boost prospects for Iraqi elections and cheer UK troops before Christmas.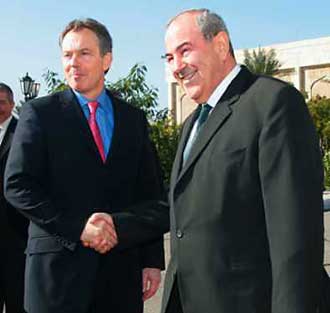 British Prime Minister Tony Blair (L) and Iraqi Prime Minister Iyad Allawi shake hands after reviewing an honor guard in Baghdad, December 21, 2004. Protected by U.S. Black Hawk helicopters, Blair flew into Baghdad Tuesday in a surprise show of political bravado designed to boost prospects for Iraqi elections in January. [Reuters]

The prime minister's trip also sent a defiant message back home where Britons' disquiet over Iraq is likely to reduce the margin of his expected general election victory next year.

While a year ago his U.S. ally George W. Bush stayed at Baghdad airport, Blair went straight into the central Green Zone, a favorite target for insurgents, on a military Puma helicopter.

"We stand on the side of the democrats against the terrorists ... Whatever people felt about the original conflict, we the British aren't a nation of quitters," he said in a joint news conference with Iraqi Prime Minister Iyad Allawi.

Once housing Saddam Hussein's presidential palace, the heavily fortified Green Zone compound now houses Allawi's offices as well as the U.S. and UK embassies.

After his first ever visit to Baghdad, Blair later flew south to the British-run Basra zone to meet troops.

He said those behind the violence were a minority.

"What's very obvious to me is that the Iraqi people here are not going to quit on this task either. They're going to see it through," Blair told reporters at the Baghdad news conference in language verging on Bush's folksy style.

Blair and Allawi both said the Jan. 30 poll would go ahead, despite an upsurge in bloodshed that included Sunday's killing of three Iraqi Electoral Commission officials and Monday's twin suicide car bombings that killed 66 people.

"Our enemies ... will not prevail," Allawi said.

"FEEL THE DANGER"

Blair met top U.S. officials in Baghdad, but was most struck by Iraqi election commission members.

"I said to them I thought they were the heroes of the new Iraq that's being created, because here are people risking their lives every day," he said.

Blair acknowledged the difficulty of stemming violence.

"Everyone understands there will be violence that continues after the elections," he said. "I hope the election will have its own impetus toward greater security."

Mortars typically strike the Green Zone area several times a week -- a fact not lost on Blair.

"You can feel the sense of danger people live in here," he said when asked about his feelings on flying in.

Blair's aides wore flak jackets and swore journalists to secrecy ahead of each stage of the trip.

Allawi praised London for its involvement in Iraq, hailing the "brave soldiers of Britain."

London sent some 45,000 troops to join the U.S.-led March 2003 invasion in its biggest deployment since the Korean War half a century ago. It has since scaled that down to about 8,500, almost all in the southern zone around Basra.

"You can be very proud of the job you are doing," Blair said as he shook hands and chatted with soldiers against a setting sun behind the Shaiba logistics base in the desert outside Iraq's second city.

Sporadic cheers from British soldiers greeted Blair, with no repeat of the sort of public complaints that embarrassed Defense Secretary Donald Rumsfeld on his recent trip to see American troops in Iraq.

Blair apologized to those missing loved ones at Christmas, but added: "My God, it's a job worth doing."




Today's Top News
Top World News

IPR violators deemed major criminals




Government coffers in with solid surplus




Listing rings in media changes




Law seeks peaceful reunification




China to lower import tariff to 9.9%




Heavy snow to fall across China