Husband of Pakistan's ex-PM arrested
(Agencies)
Updated: 2004-12-21 20:41
Pakistani police on Tuesday arrested the husband of former Prime Minister Benazir Bhutto in the killing of a former judge and his son in 1996, taking him back into custody just a month after he'd been freed on bail, lawyers and officials said.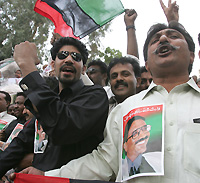 Supporters of Bhutto's People's Party chant slogans to protest against the arrest of Asif Ali Zardari, in Karachi December 21, 2004. [Reuters]

Asif Ali Zardari was detained at an airport near the capital Islamabad after arriving on a flight from Karachi to address a major opposition rally, said Nafees Siddiqi, a lawyer and opposition member who accompanied him.

About 1,000 opposition supporters clashed with police before Zardari arrived.

On Nov. 22, Zardari had been released from eight years in jail after the Supreme Court granted him bail involving other cases over alleged corruption which his supporters claim are politically motivated.

Zardari renewed detention shattered any hopes that his release last month signaled a reconciliation between Bhutto's party and the government of President Gen. Pervez Musharraf, who took power in a bloodless coup in 1999.

"He was released on court order and now he was been arrested on a court order," Information Minister Sheikh Rashid Ahmed told The Associated Press.

Interior Minister Aftab Khan Sherpao said Zardari was being sent back to Karachi, and was due to arrive there later Tuesday.

Earlier, a judge of the anti-terrorism court in Karachi, Pir Ali Shah, ordered Zardari's arrest after canceling his bail, citing his failure to attend proceedings in the murder trial, said Shahadat Awan, a lawyer for Zardari.

The trial is over the fatal shootings of a former judge and his son in Karachi eight years ago. Both were shot in a car near their home.

Zardari is accused of plotting the murders.

Before Zardari's arrival in Rawalpindi, about 1,000 opposition activists tried to enter the airport's VIP lounge, smashing windows. Police fired tear gas shells and swung batons to control the crowd. Several people were injured in the violence.

Police arrested about 30 men and 15 women and took them away in trucks. Several of the women were dragged along the ground.

"This is sheer barbarity. They have insulted women and have added a black chapter to political history," opposition lawmaker Aitzaz Ahsan told reporters at the scene. "This police action has exposed the government's claim for democracy."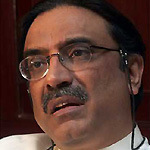 Asif Ali Zardari, husband of former Pakistani Prime Minister Benazir Bhutto, speaks during an interview with Reuters in this file photograph taken Nov. 26, 2004. [Reuters]

Syed Moverat Shah, senior superintendent of Rawalpindi police, confirmed that opposition activists had been arrested, but did not say how many.

"We have arrested the people because they violated the ban on rallies and they also damaged government property," Shah told reporters at the airport.

Late Monday, scores of supporters of Bhutto's Pakistan People's Party were arrested in raids in Rawalpindi, said Sen. Farhatullah Babar, a spokesman for the opposition group.

Police did not confirm those arrests, but said up to 20 people were briefly detained for putting up political posters in Islamabad.

Bhutto was twice elected prime minister but both her governments were dismissed for allegations of corruption and misrule in the 1990s. She lives in exile to avoid arrest in corruption cases.

Zardari is accused of making illegal money while his wife was the prime minister. He was minister for investment in Bhutto's Cabinet.




Today's Top News
Top World News

Anti-secession law seeks peaceful reunification




IPR violators deemed major criminals




Government coffers in with solid surplus




Listing rings in media changes




China to lower import tariff to 9.9%




Heavy snow to fall across China