World celebrates made-in-China Christmas
(Agencies)
Updated: 2004-12-21 11:40
Father Christmas's grotto is not an icy cave in Lapland but the economic heart of southern China, where almost two-thirds of the world's Christmas trees and decorations are made.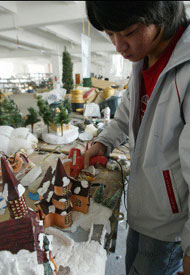 A Shenzhen Christmas worker. Father Christmas's grotto is not an icy cave in Lapland but the economic heart of southern China, where almost two-thirds of the world's Christmas trees and decorations are made. [AFP/file]

In factories staffed by predominantly Buddhist workers who have scarcely any idea of the meaning of Christmas, the baubles, Santas, lights and tinsel that mark the West's biggest festival are churned out at a relentless pace.

"No one would dispute it if you said China is the biggest manufacturer of Christmas products. Even its Customs department has figures just for exports of these goods," said Paul French, publishing and marketing director of Access Asia, a market research company with a special focus on China.

According to Customs figures, China exported 1.6 billion US dollars worth of Christmas products in 2003, of which more than half went to the United States -- including seven artificial trees erected in the White House.

China's export of Christmas-related goods in the first nine months of 2004 amounted to 850 million US dollars.

More than half of that -- 510 million dollars worth -- came from South China's Guangdong province, the country's major exporter and the heartland of its manufacturing boom.

In the United States alone, unless your family purchased a natural tree, you would have had a 70 percent chance of celebrating your Christmas with an artificial tree manufactured in the city of Shenzhen in Guangdong.

Shenzhen SG Handicraft Co. is one of more than 300 enterprises that produces Christmas items.

Chairman William Cheng said 80 percent of the company's sales came from Christmas trees. His company makes 400,000 artificial trees a year that are exported to major supermarkets and department stores in the United States and the United Kingdom.

"We are full of factories of this kind in Shenzhen," said Cheng from his factory, now in a lull after the pre-Christmas rush.

"There is so much competition out there. A lot of our customers want high quality, new products. To attract more foreign investors, we make more fibre-optic trees, trees with flashing stars, candles and so on. Our novelty trees are also quite popular."

Cheng's factory, an hour from Shenzhen city, is clean and brightly lit if a little unkempt.

At long workbenches, a few late-season workers tool the last of this year's orders.

Rolls of green plastic that are used to make the tree's needles are wrapped around wires to make the branches.

Some put little red Santa suits on plastic snowmen and others carefully glue angels on ceramic gingerbread houses.

In mid-December, there are only a handful of workers but they are already making samples of Christmas decorations for next year.

Cheng said production usually started in February each year, shortly after the Lunar New Year, and the goods were ready for October delivery.

During the height of the production period, Cheng would have 600 workers producing different types of Christmas ornaments.

Starting his own business only three years ago, Cheng said one of the most difficult things about making Christmas decorations in a non-Christian country is to understand Western culture and meet its requirements.

"They have different perceptions of colours. They like white trees, which is supposed to be a funeral colour here and doesn't seem appropriate in this happy season," he said.

Despite the hi-tech fibre-optic trees his company makes, Cheng said the old-fashioned, green-needle ones are still the most popular.

Cheng's turnover this year has doubled to six million US dollars, but he says rising prices for plastic, the raw material of Christmas, along with increasing salaries, are cutting into profits.

"I should start thinking about developing products for other Western festivals, like the Valentine's Day or Halloween."





| | |
| --- | --- |
| | |
| Miss Model of World China competition | |

| | |
| --- | --- |
| | |
| China braces for first Miss Plastic Surgery | |

| | |
| --- | --- |
| | |
| The premiere of "Kung Fu Hustle" | |
Today's Top News
Top Life News

President Hu toasts Macao five years after return




China issues reforms on jury system




SOE reforms expected to end within 3 years




Japan's decision on Lee visa sparks protests




Aviation deal marks export first




Bush: Iraqi troops not ready to take over