Pistons fan sues Pacers, players
(Agencies)
Updated: 2004-12-21 10:04
A Pistons fan who was charged with trespassing during the brawl at The Palace of Auburn Hills filed suit Monday against the Indiana Pacers and players Jermaine O'Neal and Anthony Johnson.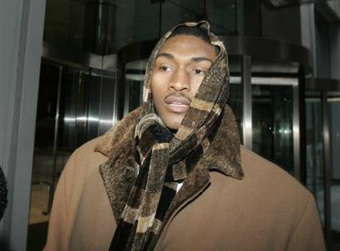 Indiana Pacers Ron Artest arrives for a meeting in New York with the NBA Players Association Thursday, Dec. 9, 2004. [AP]


O'Neal and Johnson already face assault and battery charges for allegedly attacking Charles Haddad during the Nov. 19 fight between Pistons fans and Pacers players. The charges carry up to 93 days in jail and a $500 fine.

The suit was filed in U.S. District Court by Haddad, a 21-year-old Pistons season-ticket holder. Prosecutors charged him with violating an Auburn Hills ordinance barring fans from the court. He could get up to 90 days in jail and a $500 fine.

In his suit, Haddad said Indiana's Ron Artest knocked him down while fighting with another fan.

"Before he could get up, and while he was still face-down, (Haddad) was jumped upon by ... Johnson and pounded repeatedly in the back of his neck, head (and) kidneys," the suit said.

While Haddad was being helped to his feet, "O'Neal came running from middle court ... and struck him barehanded with a windup punch" in the face, the suit said.

Pacers spokesman Jeff McCoy said he could not comment on the suit because it was a legal matter.

NBA commissioner David Stern suspended Artest for the rest of the season, Stephen Jackson for 30 games, O'Neal for 25 and Johnson for five.




Today's Top News
Top Sports News

President Hu toasts Macao five years after return




China issues reforms on jury system




SOE reforms expected to end within 3 years




Aviation deal marks export first




Hong Kong urged to treasure achievements




Bush: Iraqi troops not ready to take over