Mexico lobbies to let woman play in men's team
(Xinhua)
Updated: 2004-12-21 09:54
The board of directors of Mexican second-division soccer club Celaya will insist before the International Soccer Federation (FIFA) to let female player Maribel Dominguez play in the men's team.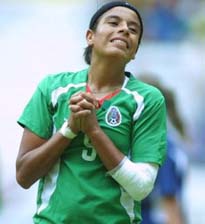 Maribel Dominguez reacts during a friendly match between Mexico and Australia in this July 11, 2004 file photo. [AFP]

In the last session of the year at Zurich, Switzerland, the Executive Committee of FIFA denied the permission for the Mexican 26-year-old player to play in Celaya.

Nevertheless, Celaya informed it will try to persuade the FIFA authorities through the President of the Mexican Soccer Federation, Alberto de la Torre, who currently is in Switzerland.

A spokesman of Celaya indicated that for the moment the player and Mexican international will not appear with the team.

As well it was announced there will not be any statement on the FIFA refusal, as beforehand other steps will be taken for Dominguez to be allowed to play for Celaya.




Today's Top News
Top Sports News

President Hu toasts Macao five years after return




China issues reforms on jury system




SOE reforms expected to end within 3 years




Aviation deal marks export first




Hong Kong urged to treasure achievements




Bush: Iraqi troops not ready to take over