Settlers back call to resist Gaza pullout
(Agencies)
Updated: 2004-12-21 09:27
The leaders of Jewish settlements in the Gaza Strip and West Bank urged their followers Monday to resist a government plan to withdraw from parts of the occupied territories, edging closer to open revolt against Prime Minister Ariel Sharon's plan to pull out next summer.
While the leaders said they remained opposed to violence, their call for civil disobedience ¡ª even at the risk of going to jail ¡ª marked the first time they have advocated breaking the law.
The announcement came on the eve of a visit by British Prime Minister Tony Blair, who will push to restart Mideast peace talks following the death of Yasser Arafat. In a setback to Blair, Israel bowed out of a proposed Mideast conference in Britain, after earlier indicating it would attend.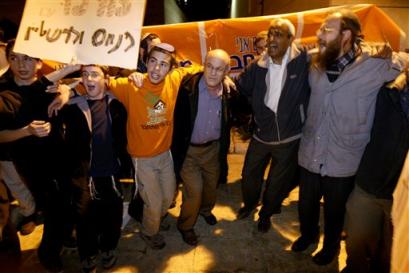 Supporters of the Israeli settler movement join arms as they sing following a news conference in Jerusalem, Monday, Dec. 20, 2004. Israeli settler leaders on Monday backed a call to resist the planned evacuation of settlements in the Gaza Strip and parts of the West Bank, even if it means going to jail, but said they remain opposed to using violence. [AP]

Since Sharon announced his withdrawal plan early this year, the settler movement has tried to defeat it through political lobbying and an aggressive advertising campaign.

Last summer, their political allies quit Sharon's ruling coalition in an attempt to undermine him, leaving the prime minister with a minority government. Settlers also enjoy strong support among many legislators in Sharon's Likud Party.

But Sharon has managed to outmaneuver them, turning to the moderate opposition for support as his hard-line coalition crumbled. That strategy appeared headed for success Monday, when parliament endorsed a reform bill that is expected to clear the way for the moderate Labor Party to join the government. A coalition with Labor would restore Sharon's majority, guaranteeing strong Cabinet support for the Gaza withdrawal.

With their political options dwindling, leaders of the Yesha Settlers Council, a group representing settlers in Gaza and the West Bank, endorsed a call by a prominent leader, Pinchas Wallerstein, to resist the withdrawal.

In a message distributed to settlers and repeated in a radio interview, Wallerstein said he is ready to go to prison for his beliefs.

"The Yesha council stands behind Pinchas Wallerstein," council head Bentsi Lieberman said later at a news conference. "The proposal to expel Jews from their homes is an immoral decision and a breach of human rights." Yesha is a Hebrew acronym for Judea, Samaria and Gaza, the biblical names of the territories.

Lieberman said the settlers oppose violence and would not use force against soldiers involved in the evacuation.

Outside the news conference, settler activists and opponents squared off. The opposition activists held torches in the air, along with signs saying "Peace Yes, Occupation No." The settlers danced around their opponents, holding signs saying "We're all Pinchas."

Sharon called Wallerstein's statement "harsh." Sharon, who for decades was the leading patron of the settlers, said he understands their pain, but that they must not break the law.

Ran Cohen, an opposition lawmaker with the dovish Yahad Party, accused Wallerstein of making "a declaration of war," claiming that there are several dozen extremist settlers who are ready to resort to violence.

"I think this was a call for rebellion that will lead in the end to political murder," he said. In 1995, Prime Minister Yitzhak Rabin was assassinated by an ultranationalist Jew opposed to his peacemaking efforts with the Palestinians.

Attorney General Meni Mazuz warned the settlers against making inciteful comments, but decided late Monday not to press charges against Wallerstein, the Justice Ministry said.

Under Sharon's withdrawal plan, 25 settlements ¡ª all 21 in Gaza and four in the West Bank ¡ª are to be dismantled between July and September. Sharon initially presented the withdrawal as a unilateral act, after refusing to negotiate with Arafat, whom he accused of backing violence, but is now ready to coordinate the pullout with the new Palestinian leadership.

Arafat's Nov. 11 death has led the way to an international push to restart full peace talks between Israel and the Palestinians. Blair, who arrives Tuesday, is the highest profile visitor to the area as part of that effort.

Sharon announced Monday that Israel will not join the international Mideast conference that Blair has been pushing. "We will not participate, but we understand its importance," Sharon said.

Last week, a Sharon adviser said Israel was prepared to attend, provided the conference focuses on the Palestinian economic revival and government reform, and not on issues to be negotiated by Israel and the Palestinians. The Palestinians want the conference to deal with "final status issues," including borders and the future of Jerusalem.

Palestinian Cabinet minister Saeb Erekat called Israel's decision to back out "unfortunate."

In London, the British Foreign Office appeared to back Sharon. "This meeting is about Palestine and practical reforms within Palestine," it said.

In Israel's political arena, the parliament passed a preliminary reading of a government reform bill, clearing the way for the opposition Labor Party to join Sharon's coalition.

The measure, which must still pass three additional readings, would create a second position of vice prime minister. Labor Party leader Shimon Peres has demanded the post as a condition for joining the government. Under current law, there can only be one vice premier, a post held by Sharon confidant Ehud Olmert.




Today's Top News
Top World News

President Hu toasts Macao five years after return




China issues reforms on jury system




SOE reforms expected to end within 3 years




Aviation deal marks export first




Hong Kong urged to treasure achievements




Bush: Iraqi troops not ready to take over