Ronaldinho named World Player of the Year
(Agencies)
Updated: 2004-12-21 08:59
Barcelona's Brazilian playmaker Ronaldinho has been named FIFA World Player of the Year.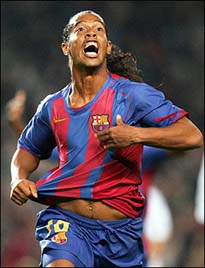 Brazil's Ronaldinho, seen here in November 2004, was named 2004 FIFA World Footballer of the Year. [AFP]

Ronaldinho, 24, totalled 620 points followed by Thierry Henry of Arsenal and France on 552. Newly-crowned European Footballer of the Year Andriy Shevchenko of AC Milan and Ukraine was third on 253.

"For me just to be selected and to be here was already an honour," Ronaldinho told the FIFA gala awards ceremony on Monday.

"Of course I have to thank my Barcelona colleagues because I could not have won it without them.

"I am very happy at Barcelona, I want to be part of a new winning era at the club and I have no plans to go anywhere else," he added, dismissing suggestions he might be interested in a move to Chelsea.

It was the second successive year that Henry has finished as runner-up in the poll based on the verdict of 157 international coaches and, for the first time this year, 145 national team captains.

Five points were awarded for a first place nomination, three for second and one for third. Ronaldinho gained 89 first place votes, Henry 79 and Shevchenko 34.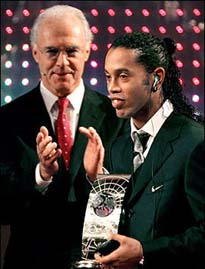 Barcelona's Brazilian midfielder Ronaldinho (R) receives his best 'FIFA 2004' player of the year trophy during a ceremony in Zurich. [AFP]

Last year's winner Zinedine Zidane, who announced his international retirement from the France team after Euro 2004, came fourth. Last year's European Footballer of the Year Pavel Nedved of the Czech Republic was fifth.

Ronaldinho has transformed Barcelona since arriving from Paris St Germain in 2003 and they lead the Primera Liga by nine points. Unlike his rivals for the award, organised by world soccer's governing body FIFA, Ronaldinho did not win a major club trophy this year.

Ronaldinho did not take part in the Copa America won by Brazil as he was rested along with Ronaldo and Roberto Carlos.

He is the fourth Brazilian to capture the award since its introduction in 1991 after Romario (1994), three times winner Ronaldo (1996, 1997 and 2002) and Rivaldo (1999).

Remarkably, they all won the award when playing for Barcelona, though after his first success Ronaldo was with Inter Milan in 1997 and Real Madrid in 2002.

Germany's Birgit Prinz won women's player of the year, the Presidents' Award went to Haiti for promoting the match for peace against Brazil and Brazil took the Fair Play award.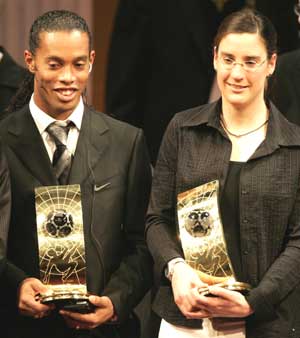 Ronaldinho of Brazil (L) and Birgit Prinz of Germany (R) pose with their FIFA World Player 2004 awards during the FIFA World Player of the Year awards ceremony in Zurich, Switzerland, December 20, 2004. [Reuters]
Today's Top News
Top Sports News

President Hu toasts Macao five years after return




China issues reforms on jury system




SOE reforms expected to end within 3 years




Japan's decision on Lee visa sparks protests




Aviation deal marks export first




Bush: Iraqi troops not ready to take over