We are dreaming of a White Christmas!
By Qin Jize (China Daily)
Updated: 2004-12-21 01:22
It's beginning to look like this may be a white Christmas.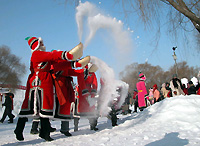 Participants pour snow during the opening of the 17th session of the International Ice Sculpture Festival yesterday in Harbin, capital of Northeast China's Heilongjiang Province. The festival, with its main theme as "shining snow," has eight main scene areas, including a national and international snow sculpture competition, an entertainment area and a skating area. Tourists can also enjoy other traditional activities. The lowest temperature was 24 C minor yesterday in Harbin. [newsphoto]

Weather forecasters, reacting to the winter's coldest temperatures in the Chinese capital -- 8.4 C below zero early yesterday morning --say fluffy, white stuff is on the way.

China Central Meteorological Observatory has issued a winter snow warning for eastern and central China yesterday as a new cold air mass invades the country.

Forecasters said snow showers could develop, with snow depths ranging up to 15 millimetres in some areas in Northwest China's Xinjiang Uygur Autonomous Region.

Meantime, areas like Shanxi, Hebei, Henan provinces in North China and East China's Shandong Province are expecting heavy snow or snow storms.

The bitterly cold and snowy weather will continue for the next five days.

The strong winds and rapidly falling temperatures have pushed the winter chill deep into every corner of Beijing.

"Beijing saw its lowest temperatures early this morning --8.4 C below zero," said Li Tingfu, a weather forecaster with the local weather service.

However, the temperature is forecast to go up a little bit in the next few days. The daytime high could rise to 0 C to 2 C.

Yesterday's high was only 1.7 C below zero, which was 2 to 3 degrees C lower than the average record for the same period.

But one day's record is not strong enough to disprove that a warm winter is expected this year, Li added.

Records for November and early December show the temperature was 2 to 3 degrees centigrade higher than average.

During the cold winter days,airport flights and train schedules have become more of a wish than reliable guidelines.

The flight board at airport in Shenyang, capital of Northeast China's Liaoning Province, showed more than 50 flight delays and cancellations on Sunday as the airport was forced to close when heavy snow blanketed the city.

In Beijing, the cold air detained about 200 passengers at the Beijing Capital International Airport on Sunday when the engine of one airplane froze up.

The flight was back on after nine hours of emergency repairs, the Beijing Times said.

The unusual cold caused railway transportation foul-ups.

About 10 trains were delayed two hours or so as the Beijing-Shanghai railway was frozen in parts.

The big cold front gives the country a feel of real winter.

"I am glad that it looks like it will be possible to have a white Christmas Day," an excited Wei Feng said.

She said as a big sports fan she is looking forward to going skiing some time on a real snowy day.

She said cold weather should not be an excuse to skip physical exercises.

"Indoor facilities are a good winter time option," she said.

For Xiao Guilan, 65, the lunar calendar told her that today is the beginning of the coldest winter days.

"It also means the grand countdown to the return of warm weather," she said.

Cold weather is very risky for older people, said Liang Ying, a doctor at Beijing's Anzhen Hospital.

She said winter dangers include falls on ice resulting in broken bones or breathing problems caused by cold air.




Today's Top News
Top China News

Hu toasts Macao five years after return




China issues reforms on jury system




SOE reforms expected to end within 3 years




Aviation deal marks export first




Hong Kong urged to treasure achievements




Bush: Iraqi troops not ready to take over