Aviation deal marks export first
By Fu Jing (China Daily)
Updated: 2004-12-21 01:22
Twenty China-manufactured MA60 passenger planes will enter the overseas aviation market soon.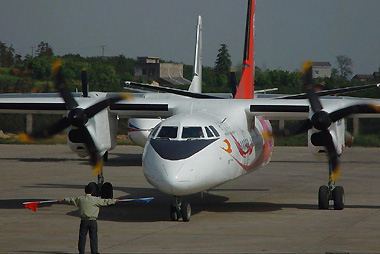 The Xi'an-produced MA60. []

China National Aero-technology Import & Export Corp (CATIC) yesterday entered into the 2 billion yuan (US$250 million) landmark deal in Beijing with the plane's producer -- the Xi'an Aircraft Company.

But the CATIC did not reveal who the overseas buyers of the planes are. Industry insiders said they are to be exported to African countries.

The CATIC President Fu Shula said the deal is an "encouraging landmark" for China's aviation industry, which has dreamed of exporting for years but encountered many technical barriers placed in its way by American and European competitors.

"It (the deal) is encouraging for the nation's aviation industry," Fu said at yesterday's signing ceremony in Beijing.

He said China's highest leadership has shown great enthusiasm to help the country's aviation producers explore overseas markets.

The deal is followed by Zimbabwe's buying two MA60 planes during Chairman of the Standing Committee of the National People's Congress (NPC) Wu Bangguo's tour in Africa last month.

The MA60 is a 60-seat jet-driven aeroplane. It can cover the distance of 1,600 kilometres with a full load. Its maximum speed is 504 kilometres per hour.

Gao Dacheng, general manager of the aircraft company, said he is confident the plane's performance, and is certain it will convince more overseas airlines to become customers.

The smaller passenger plane got the chance to play in the domestic market in April 2002 after four years' of experimental flying.

"With international safety standards and comfort, our plane saves on operating costs for our customers," Gao said.

Figures with the aircraft company showed MA60 planes could save up to a third in operational costs when compared with other similar same-scale foreign aircraft.

Based on the government's strong support of China's plane-manufacturing industry, Gao yesterday also revealed its export targets by 2020, when his company will sell at least 300 such planes to overseas market.

By the end of 2005, 2007 and 2010, the company will export 20, 50 and 100 aircraft, respectively.

The company's exporter, the CATIC said the export blueprint is practical.

"Now we have at least 100 potential buyers in 24 counties to help us realize 2007 target," said the export company's President Fu Shula.




Today's Top News
Top China News

President Hu toasts Macao five years after return




China issues reforms on jury system




SOE reforms expected to end within 3 years




Aviation deal marks export first




Hong Kong urged to treasure achievements




Bush: Iraqi troops not ready to take over