YUKOS awaits Russia's next move after mystery sale
(Agencies)
Updated: 2004-12-20 21:08
YUKOS and its investors were left guessing as to Russia's next move Monday after its main oil production unit was sold off to Baikal Finance Group, a mystery firm registered in a provincial city.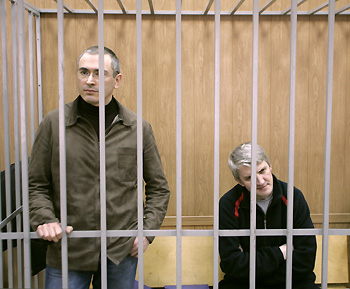 YUKOS owner Mikhail Khodorkovsky (L) and Platon Lebedev, YUKOS main shareholder are seen in a Moscow court during its session, December 20, 2004. YUKOS is widely seen by analysts as the victim of a Kremlin campaign to crush its owner Khodorkovsky and seize control of strategic sectors of the economy sold off in the chaotic privatisations of the 1990s. [Reuters]

Sunday's sale of Yuganskneftegaz was ordered to raise funds to help pay YUKOS's $27.5 billion back-tax bill, the result of a relentless assault by authorities which analysts say is aimed at breaking up the company.

Of the total tax bill Yugansk itself owed $5 billion.

But the sale leaves YUKOS stripped of its main asset, which pumps about one million barrels of oil a day, more than OPEC member Qatar. The company has already considered filing for liquidation to protect its remaining assets from enforced sale.

Worries are compounded by confusion over YUKOS's January oil exports as oil traders try to understand how the mystery Yugansk buyer might pick up the controls on such a vast enterprise.

"That some 10 percent of Russia's (oil) production should be in unknown hands is clearly untenable," said Adam Landes at Renaissance Capital. YUKOS is widely seen by analysts as the victim of a Kremlin campaign to crush its politically ambitious owner, Mikhail Khodorkovsky, and seize control of strategic sectors of the economy sold off in the chaotic privatizations of the 1990s.

Khodorkovsky is now on trial for fraud and tax evasion and faces 10 years in jail if convicted.

Menatep, a group through which Khodorkovsky and associates control YUKOS, has promised years of litigation.

Some analysts speculated that Baikal's winning of Sunday's enforced auction with a bid of $9.4 billion might prove to be a way of circumventing a U.S. bankruptcy court ruling.

The ruling last week had imposed a temporary order on Russian gas monopoly Gazprom and other pre-registered bidders and their bankers not to take part in the auction, pending further proceedings in YUKOS's application for U.S. Chapter 11 bankruptcy protection.

"Should Baikal fail to finance the transaction, which is now looking quite likely, the auction may be declared void. In this case, the state may take the shares of Yugansk as payment for YUKOS tax liabilities (and) ... transfer Yugansk to Gazpromneft at a later stage," said share broker Troika Dialog analyst Kaha Kiknavelidze.

Gazprom, which had been widely seen as favorite to buy Yugansk, ended up not bidding at the auction.

Its American Depository Shares trading in London were down 6 percent at $31.55 by midday Monday.

In Sunday's auction of Yuganskneftegaz, watched by reporters on closed-circuit television, representatives of both Gazprom's oil unit and Baikal appeared to lodge bids at the starting minimum price of $8.87 billion.

But sale organizer the Federal Property Fund said later the minimum price was confirmed only by Baikal, which later offered the only higher bid of $9.4 billion.

A win would have put Gazprom, the world's top gas producer, in violation of the U.S. court order and expose it to contempt of court proceedings that could involve foreign asset seizures.

The U.S. order had also sunk plans for heavily-indebted Gazprom to get funding to buy Yugansk at the auction from a consortium of foreign banks including Deutsche Bank and JP Morgan.

Gazprom has denied having any links to Baikal.

CONFUSION

Baikal Finance Group, named after the deepest fresh water lake in the world, in eastern Siberia, was not one of the three original bidders registered at the auction. It was registered in Tver, a city some 125 miles north of Moscow.

Russian news agency Itar-Tass said one of its reporters had checked the address given by Baikal in Tver and had found a building housing a mobile phone shop and a food store.

Many analysts believe it was a hastily assembled vehicle to allow Russian state interests to get round the U.S. court order.

UFG analyst Stephen O'Sullivan said Kremlin-friendly secretive oil company Surgutneftegaz, Russia's fourth biggest, was behind Baikal, noting its extensive Tver business interests.

"In our view, Surgut is the only Russian oil and gas company that would have reason to incorporate a bidding vehicle in Tver on grounds it had material business interests there," he said.

YUKOS's troubles have already helped push oil prices to peak levels over the past few months and concerns over supplies from the world's second-biggest oil exporter could grow after Menatep lawyers threatened Sunday widespread legal action.

Gazprom is at the center of Russian plans to create a huge state energy company also embracing oil. It supplies a quarter of Europe's gas, making it vulnerable to international court rulings.

The Yugansk sale is also disputed by YUKOS minority shareholders who control 25 percent of the company and who have threatened legal action, alleging illegal expropriation.




Today's Top News
Top World News

President Hu toasts Macao five years after return




China issues reforms on jury system




SOE reforms expected to end within 3 years




Aviation deal marks export first




Hong Kong urged to treasure achievements




Bush: Iraqi troops not ready to take over