China's banking industry enters global integration
By Sun Min (China Daily)
Updated: 2004-12-20 09:58
The past three years seem to have been more of a process of integration than a confrontation for Chinese banks and their foreign counterparts.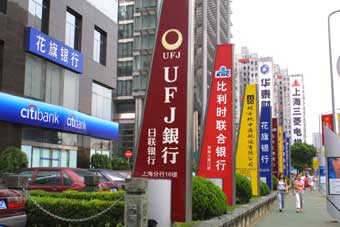 Pedestrians walk past billboards of foreign banks in a street in Shanghai in this October 15, 2004 file photo. China's banking regulator says nine Chinese banks introduced foreign strategic investors and another nine are in negotiation with potential foreign buyers. [newsphoto]

A number of giant global banks have bought into Chinese banks - with the biggest single foreign purchase reaching 19.9 per cent.

Statistics from the China Banking Regulatory Commission (CBRC) indicate that nine Chinese banks introduced foreign strategic investors. And another nine are in negotiation with potential foreign buyers.

Even in the State-owned Big Four, the entry of foreign strategic investors is an unavoidable trend as they turn to joint stock banks and head for public listings.

Chinese authorities even require all newly established commercial banks to have at least one foreign investor.

The advent of more foreign and local co-operative banks has enabled the foreign banks to quickly expand their own distribution network in China.

In return, they lend their technology and expertise to help their Chinese partners run more efficiently and build up risk management and credit culture.

"We are working together with our Chinese partners to help build a modern banking system and a prosperous future," said John Bond, Chairman of HSBC Group, one of the world's largest financial organizations.

In the last three years, the group invested nearly US$3 billion in Chinese mainland financial organizations, including banks, trust firms and insurance companies.

"This shows our confidence in China's financial reforms and our confidence in China's future," Bond said during a visit to Beijing last month.

Foreign banks, when hard to form a large local network as their local rivals had, would seek the right partners as a shortcut for their business expansion.

HSBC's union with the Bank of Communications in August cost HSBC US$1.75 billion to acquire a 19.9 per cent stake in the Shanghai-based bank, the biggest single foreign investment in the Chinese banking industry so far.

But with the partnership, HSBC has already led management in a new credit centre launched by the two. And it will directly participate in top management of the Chinese bank, which is preparing for a public listing both in Hong Kong and the mainland.

Meanwhile, the advance of its own network has never ceased.

HSBC already has banking branches in 10 mainland cities and is doing renminbi business with local corporations in seven cities.

The number will increase steadily as China opens up another five major cities for foreign banks to provide renminbi services beginning this month. It is expected to lift all geographic and customer restrictions in two years, which will offer foreign banks real national treatment.

Recently, HSBC applied for a licence to operate renminbi business in Beijing and Xiamen. Both cities are newly added to the opened list.

Bond predicts the bank will open branches in 20 mainland cities in the coming years.

Other foreign banks, including Citibank, are adopting a similar strategy to develop in the Chinese market, though the pace of entry may differ.

Sources with the Beijing Banking Regulatory Bureau said about half of the foreign banks in Beijing submitted formal or informal application for renminbi licences on the first opening day, December 1.

Statistics indicate that by the end of October, Beijing was home to 24 foreign bank branches. The total assets of foreign banks in Beijing stood at US$6.4 billion, a 29.5 per cent increase year-on-year.

Some coastal cities, especially those in the southern and eastern regions where many multinationals and wealthy residents reside, have witnessed a faster pace of opening.

In the entire mainland market, foreign banks already created a 1.8 per cent ratio of the total banking assets by the end of October.

The foreign banks have also enhanced the competitiveness of Chinese financial institutions, said Ba Shusong, deputy director of the Research Institute of Finance at the State Council's Development and Research Centre, a government think-tank in Beijing.

The participation of foreign shareholders helps Chinese banks improve corporate governance and risk management.

Foreign banks also introduce some mature products and services from overseas.

Meanwhile, the foreign force also drives Chinese regulators to do a better job and become more sophisticated, Ba said.

The launch of an international consulting committee in CBRC, for example, enables some foreign bankers and experts to give their piece of advice to China's banking reforms and enhances communication between the government, foreign banks and Chinese banks.

Of course, the pressure of competition is still mounting, especially for top-class customers, both in retail and corporate sectors.

And in the derivative business, foreign banks have even led many Chinese counterparts in the development of new products.

Citibank, Standard Chartered, ABN AMRO and a number of other foreign banks have acquired licenses from CBRC this year to provide financial derivative services.

Such products are in great demand in China, as the country's financial institutions are still bound by the restriction on cross-industry investments between the banking, insurance and securities sectors and risk hedging tools are insufficient.

But the situation is set to change as foreign financial conglomerates are muscling in with full-range services in the years to come. It will also bring Chinese banks more freedom to expand their product lines to better compete.




Today's Top News
Top China News

China's banking industry enters global integration




"One country, two systems" works in Macao




EU aims to lift China arms ban by mid-2005




China helps track French satellite's orbit




60 killed, 120 wounded in Iraq car blasts




Sunken ferry kills 10 students in Shaanxi