Canadian PM becomes latest world leader to visit Libya
(Agencies)
Updated: 2004-12-20 09:44
Canadian Prime Minister Paul Martin became the latest in a parade of world leaders to meet Libyan leader Moamer Kadhafi as the once pariah nation cements its emergence from diplomatic isolation.
Martin was expected to use his two-day visit to push for a liberalisation of Libya's economy, political system and human rights policies and to make a strong pitch for Canadian business as the Libyan economy opens.
Speaking to reporters following talks with Kadhafi, Martin announced that a Canadian engineering group, SNC-Lavalin, had signed a one-billion-dollar (750-million-euro) contract to carry out one of the final phases of a vast irrigation project.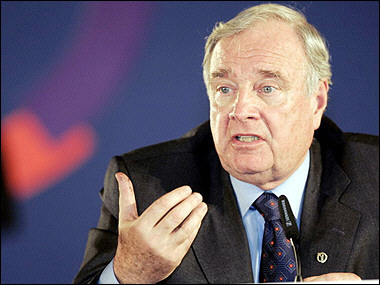 Picture of Canadian Prime Minister Paul Martin on 27 November 2004. Martin became the latest in a parade of world leaders to meet Libyan leader Moamer Kadhafi as the once pariah nation cements its emergence from diplomatic isolation. [AFP/file]

Libya's great artificial river project, which was launched in 1984 and inaugurated in 1991, is designed to carry groundwater in giant pipelines from the south of the country to the coast.

Martin also said the two countries were looking at possible contracts in oil and gas sectors -- firms in Canada have been eyeing a role in Libya's economy, now that a raft of international sanctions has been lifted since Tripoli came in from the diplomatic wilderness.

The Canadian leader said his talks with Kadhafi had focused on African issues, particularly on efforts to resolve the crisis in Sudan's western Darfur region, as well as developments in the Democratic Republic of Congo, Ivory Coast and Uganda.

They also discussed the Middle East, both stressing the need for the creation of a Palestinian state, he said.

Martin, who vowed before the visit to encourage the Libyan leadership along the path of reform, said he had spoken to Kadhafi about human rights and the need for a transparent justice system.

Libyan Prime Minister Shukri Ghanem said earlier the meeting had covered relations between the two countries as well as the crisis in Darfur.

Already this year, Kadhafi has held talks with British Prime Minister Tony Blair, French President Jacques Chirac, German Chancellor Gerhard Schroeder and Italian Prime Minister Silvio Berlusconi.

Kadhafi, who shot to power in a 1969 coup, has undergone a dramatic diplomatic rebirth over the last year, by agreeing to stop developing weapons of mass destruction, denouncing terrorism and accepting responsibility for the bombing of a US airliner over Lockerbie, Scotland in the 1980s.

Martin's visit was lent extra spice, when the Libyan leader's influential son Sayef al-Islam Kadhafi, last week lambasted Ottawa for sharing US hostility towards Tripoli during the 1980s.

He complained in an interview with Canada's Globe and Mail newspaper that Canada, which had two citizens killed in Lockerbie, had slapped sanctions on Libya following the disaster despite not being involved in the dispute.

"For quite a long time we have regarded Canada as an enemy to Libya and as just a follower for the Americans.

"Therefore, Canada should pay the price for that," he told the daily, suggesting that Canadian firms could suffer if Ottawa fails to apologize to Libya.

Conveniently, the younger Kadhafi was expected to be abroad during Martin's visit, a senior Canadian official said.




Today's Top News
Top World News

Hu: "One country, two systems" thriving in Macao




EU aims to lift China arms ban by mid-2005




China helps track French satellite's orbit




60 killed, 120 wounded in Iraq car blasts




Sunken ferry kills 10 students in Shaanxi




Electric vehicles may be used for 2008 Games