Lawmakers chide Rumsfeld for auto-signed sympathy letters
(Agencies)
Updated: 2004-12-20 09:12
US Defense Secretary Donald Rumsfeld did not personally sign his name on letters of condolence to families of troops killed in Iraq but instead had it done by a machine, an action lawmakers said on Sunday showed insensitivity and was inappropriate for leadership during war.
Rumsfeld acknowledged that he had not signed the letters to family members of more than 1,000 U.S. troops killed in action and in a statement said he would now sign them in his own hand.
"This issue of the secretary of Defense not personally signing the letters is just astounding to me and it does reflect how out of touch they are and how dismissive they are," Republican Sen. Chuck Hagel said on CBS's "Face the Nation."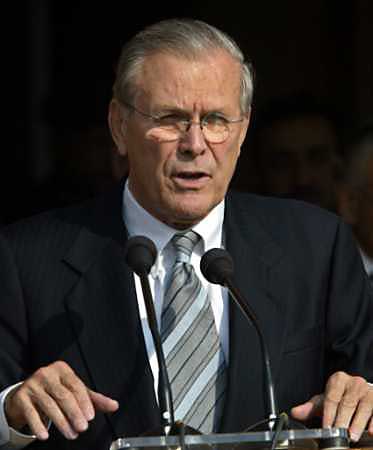 US Defense Secretary Donald Rumsfeld will now personally sign letters of condolence to families of troops killed in action, after the Pentagon acknowledged signing machines had been used in the past. Rumsfeld gestures during a news conference in New Delhi, December 9, 2004. [Reuters/file]

"I have no confidence in Rumsfeld," Hagel added.

Rumsfeld has been under strong fire from Democrats and some Republicans recently for appearing to brush off concerns of soldiers about the lack of protective equipment in Iraq.

But President Bush's Chief of Staff Andrew Card emphasized White House support for Rumsfeld on Sunday.

He "is doing a spectacular job, and the president has great confidence in him," Card told ABC's "This Week" program.

Hagel noted that the families of the troops killed in Iraq have received letters signed by Bush.

"My goodness, that is the least we can expect the secretary of Defense ... If the president can find the time to do that why can't the secretary of Defense?" said Hagel, who has been a sharp critic of the way Bush has handled the Iraq war.

Democrat Jack Reed of Rhode Island said family members of those killed, "would like to think that at least for a moment the secretary thought about individually this young man or this young woman."

"Again it shows a lack of leadership style appropriate for the military ... This goes to his capability to continue to serve."

However, Republican Saxby Chambliss of Georgia, said that while "this is another area in which the secretary is being insensitive," the action did not "go to his leadership."

AUTOPEN RETIRED

"I wrote and approved the now more than 1,000 letters sent to family members and next of kin of each of the servicemen and women killed in military action," Rumsfeld said in a statement on Sunday."

"While I have not individually signed each one, in the interest of ensuring expeditious contact with grieving family members, I have directed that in the future I sign each letter."

Rumsfeld got himself into trouble earlier this month by appearing to brush off a soldier headed to Iraq who complained that military vehicles did not have sufficient armor and troops were having to piece together scraps of metal for extra protections.

Some prominent Republicans including Arizona Republican Sen. John McCain (news, bio, voting record) and former Senate Majority Leader Trent Lott have questioned his performance, leading the White House to come to his defense on Friday with a statement that he was "doing a great job."

Among the critics, Senate Foreign Relations Committee Chairman Richard Lugar expressed concern on NBC's "Meet the Press" on Sunday that removing him from office could threaten national security.

"He should be held accountable and he should stay in office," the Indiana Republican senator said. "The fact is a change of leadership in the Pentagon at this point might be as disruptive as trying to get someone in Homeland Defense," he added.

Military families told the Stars and Stripes newspaper, which first carried the story, that the machine-signed letters reflected a lack of respect for the losses the families had suffered.

"To me it's an insult, not only as someone who lost a loved one but also as someone who served in Iraq," Army Spc. Ivan Medina whose brother Irving was killed in Iraq this summer, told the newspaper.




Today's Top News
Top World News

China's banking industry enters global integration




"One country, two systems" works in Macao




EU aims to lift China arms ban by mid-2005




China helps track French satellite's orbit




60 killed, 120 wounded in Iraq car blasts




Sunken ferry kills 10 students in Shaanxi