Unknown company Baikal wins YUKOS auction
(Agencies)
Updated: 2004-12-20 09:00
Baikal Finance Group, an unknown company, won an auction for Russian oil company's YUKOS's core asset Sunday with a $9.4 billion bid and analysts said whomever was behind the bid enjoyed Kremlin favor.
Gazprom, which had been favored to win but was outbid, declared it had no links to Baikal. Analysts still believed the state-controlled gas giant or other state interests may have had a hand in the winning bid for Yuganskneftegaz.
YUKOS is widely seen by analysts as the victim of a Kremlin campaign to crush its politically ambitious owner, Mikhail Khodorkovsky, and seize control of strategic sectors of the economy sold off in the chaotic privatizations of the 1990s.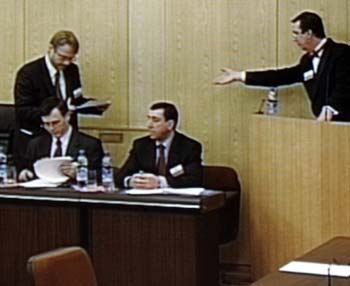 Members of the auction commission are seen in the 'gosstandart' hall, in this picture of a TV screen put outside the building where Yuganskneftegaz auction took place in Moscow, December 19, 2004. Unknown company Baikal Finance Group won an auction for Russian oil firm YUKOS's main production unit, outbidding gas monopoly Gazprom which had been heavily tipped to win. [Reuters]

Khodorkovsky is now on trial for fraud and tax evasion and faces 10 years in jail if convicted.

Baikal, named after a huge Siberian freshwater lake in the heartland of Russia's oil industry, bid 260.75 billion rubles ($9.4 billion) for Yuganskneftegaz, said the sale's organizer, the Federal Property Fund.

Under Russian law the government can order a new auction or seize Yugansk in lieu of unpaid taxes if Baikal fails to pay the full amount it has bid within 14 days.

The sale of Yuganskneftegaz, which pumps more oil than OPEC member Qatar, went ahead despite a U.S. court order barring Gazprom and its foreign bankers from bidding, pending further proceedings in YUKOS's application for U.S. Chapter 11 bankruptcy protection.

Baikal, which was not one of three originally registered bidders including Gazprom, may have been a hastily assembled vehicle allowing Russian state interests to get around the U.S. court order, one analyst said.

"The political signal from the government Friday was they would go ahead and they have found a way to go ahead that minimizes legal risk," said Chris Granville, a strategist for investment bank UFG.

"There were three registered bidders and all three were named in the restraining order. Now the surprise is that a new entity emerges. The Russian state was not named in the restraining order nor was this entity," he added. Russian news agency Itar-Tass said one of its reporters had checked the address given by Baikal in the town of Tver, 125 miles outside Moscow, and had found a building housing a mobile phone shop and a food store.

"I see no plausible explanation for the theory that Baikal was representing competing interests," said Paul Collison, a strategist with UBS in Moscow. He added that Yugansk was likely to end up with Gazprom or directly in the state's hands.

Gazprom had put in an opening offer for 76.79 percent of Yugansk representing 100 percent of voting interests at the minimum sale price of 246.8 billion rubles ($8.87 billion) but withdrew after Baikal made the winning bid.

The auction was ordered to raise funds to help pay YUKOS's $27.5 billion back-tax bill, the result of a relentless assault by the authorities which analysts say is aimed at breaking up the company.

It leaves YUKOS stripped of its main asset, which pumps about 1 million barrels of oil a day. The company may file for liquidation to protect its remaining assets from forced sale.

"$9 BILLION HEADACHE"

A YUKOS spokesman said Sunday that whoever was behind the winning bid would be pursued through the law courts.

"The company (YUKOS) considers that the victor of today's auction has bought itself a serious $9 billion-dollar headache," YUKOS spokesman Alexander Shadrin said.

"Those who stand behind the winner ... have subjected their business to considerable legal risks. We declare that the sale of Yugansk is illegal," he told Reuters.

Before the auction, lawyers for Menatep, a group through which Khodorkovsky and his associates control YUKOS, pledged to extend their fight against the sell-off to other countries.

They told a news conference in Moscow they would seek injunctions in foreign courts seizing Russian oil and gas exports.

Menatep head Tim Osborne said after the auction that Yugansk's new owners were "on notice that this is an illegal expropriation and I'm sure we'll be in touch with them."

YUKOS's troubles have already helped push oil prices to peak levels over the past few months and concerns over supplies from the world's second-biggest oil exporter could grow after Sunday's threat of legal action from Menatep's lawyers.




Today's Top News
Top World News

Hu: "One country, two systems" thriving in Macao




EU aims to lift China arms ban by mid-2005




China helps track French satellite's orbit




60 killed, 120 wounded in Iraq car blasts




Sunken ferry kills 10 students in Shaanxi




Electric vehicles may be used for 2008 Games