60 killed, 120 wounded in Iraq car blasts
(Agencies)
Updated: 2004-12-20 07:56
Car bombs tore through a Najaf funeral procession and Karbala's main bus station Sunday, killing at least 60 people and wounding more than 120 in the two Shiite holy cities. In Baghdad, gunmen launched a bold ambush, executing three election officials, in their campaign to disrupt next month's parliamentary ballot.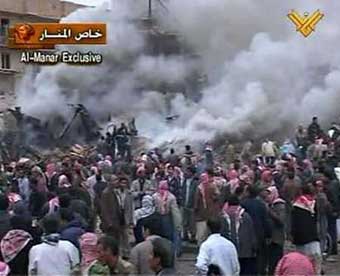 A video grab shows the scene of a suicide car bomb in Iraq's Shi'ite Muslim holy city of Najaf December 19, 2004, which killed 48 people and wounded at least 90, according to a hospital official. Suicide car bombers struck Iraq's two main Shi'ite holy cities of Najaf and Kerbala, killing at least 62 people and wounding nearly 130, in coordinated attacks six weeks before a historic election. [Reuters]

The deadly strikes highlighted the apparent ability of the insurgents to launch attacks almost at will, despite confident assessments by U.S. military commanders that they had regained the initiative after last month's campaign against militants in Fallujah.

In the Baghdad attack, dozens of guerrillas ! unmasked and apparently unafraid to show their faces ! ran rampant over Haifa Street, a main downtown thoroughfare. They dragged the three election workers from a car, lay them on the street in the middle of morning traffic and shot them point-blank.

The bombings in Najaf and Karbala, which Shiite officials suspected were coordinated, were the deadliest attacks since July. They were a bloody reminder that the Shiite heartland in the south ! not just the Sunni regions of central and northern Iraq ! is vulnerable to the mainly Sunni insurgents aiming to wreck the vote.

Shiites, who make up around 60 percent of Iraq's population, have been strong supporters of the election, which they expect will reverse the longtime domination of Iraq by the Sunni Arab minority. The insurgency is believed to include many Sunnis who have lost prestige and privilege since Saddam Hussein's fall.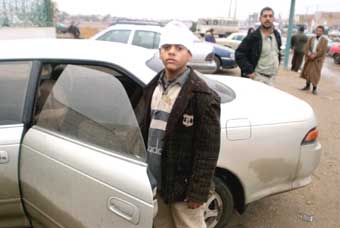 An Iraqi boy stands outside a hospital after being treated for injuries from a car bomb explosion near a mosque in Najaf, December 19, 2004. A suicide car bomb in Iraq's Shi'ite Muslim holy city of Najaf on Sunday killed 48 people and wounded at least 90, a hospital official said. Suicide bombers struck two of Iraq's holiest cities for Shi'ites on Sunday in seemingly coordinated attacks just six weeks before Iraqi's first free elections, which Shi'ites are expected to dominate. [Reuters]

The persistent insurgent violence has already raised questions over whether residents of central and northern Iraq will be able to vote. If attacks scare away voters in the south as well, it would further undermine the first national ballot since Saddam was ousted.

In a message passed on by lawyers who visited him in his cell last week, Saddam denounced the elections as an American plot.

"President Saddam recommended to the Iraqi people to be careful of this election, which will lead to dividing the Iraqi people and their land," Ziad al-Khasawneh, who heads Saddam's legal team, said in Jordan. An Iraqi member of the team met Saddam in detention on Thursday.

Saddam said the elections "aimed at splitting Iraq into sectarian and religious divisions and weakening the (Arab) nation," said Bushra Khalil, another member of the defense team.

The bombings in Najaf and Karbala, predominantly Shiite cities 45 miles from each other south of Baghdad, came just over an hour apart. The first was a suicide blast that ripped through minibuses parked at the entrance of to Karbala's main bus station, followed by a car bomb in a central Najaf square crowded with people watching a funeral procession attended by the city police chief and provincial governor.

The Najaf car bomb detonated in central Maidan Square where a large crowd of people had gathered for the funeral procession of a tribal sheik ! about 100 yards from where Gov. Adnan al-Zurufi and police chief Ghalib al-Jazaari were standing. They were unhurt.

Hospital officials said 47 people were killed and at least 90 others wounded in the blast, which went off about 400 yards from the Imam Ali Shrine, the holiest Shiite site in Iraq

"A car bomb exploded near us," al-Zurufi said. "I saw about 10 people killed." Al-Jazaari believed he and al-Zurufi were the targets of the attack.

The blast sheered facades off nearby buildings and brought down part of a two-floor building. Dozens of local men clambered over the rubble, digging for survivors.

The Karbala blast destroyed about 10 passenger minibuses and set ablaze five cars outside the crowded Bab Baghdad bus station. Hospital officials said 13 people were killed and 33 injured.

It was Karbala's second bombing in a week. On Wednesday, a bomb exploded at the city's gold-domed Imam Hussein Shrine, killing eight people and wounding 40 in an apparent attempt to kill a top aide to Iraq's most powerful Shiite cleric, Grand Ayatollah Ali al-Sistani.

An official with the leading Shiite political party, the Supreme Council for the Islamic Revolution, said the two bombings Sunday were "no doubt" linked. "These operations aim at driving the Shiites away from the political process and toward acts of revenge to undermine the national unity," Jalal Eddin al-Sagheer said. "The whole issue has to do with elections."

Grand Ayatollah Mohammed Said al-Hakim, one of Najaf's top four Shiite clerics along with al-Sistani, denounced the bombings, saying they aimed to "create a disturbance in security and incite sectarian sedition" and that God will "avenge and compensate" the victims.

The Baghdad ambush was the latest attack to target Iraqi officials working to organize the elections.

During morning rush hour, about 30 armed insurgents, hurling hand grenades and firing guns, swarmed onto Haifa Street, the scene of repeated clashes between U.S. forces and insurgents. They stopped a car carrying five employees of the Iraqi Electoral Commission and dragged out three of them. The other two escaped.

Pistol-wielding guerrillas forced the officials to kneel in the middle of Haifa Street, while cars behind them braked to a halt, with some panicked drivers trying to reverse away. One of the officials was punched by the gunmen as he lay on the ground, while another knelt nearby, before the militants shot all three at point-blank range.

The gunmen then set fire to the officials' car.

The commission condemned the attack as a "terrorist ambush."

A police official said the ferocity of the clashes prevented police from nearing the area. The attackers, most of whom wore no masks or scarves over their faces, set fire to at least one other vehicle before melting away as U.S. and Iraqi National Guard forces cordoned off the area.

Sunni elder statesman Adnan Pachachi, who is running in the Jan. 30 elections, said the Haifa Street violence proved there should be a "short postponement" of the national polls to address the concerns of senior Sunni clerics demanding a boycott.

Interim Iraqi Prime Minister Ayad Allawi, a pro-American secular Shiite, said an increase in attacks ahead of the elections had been anticipated.

"For sure we expect strikes and we hope the eyes of our people will be open to inform authorities and help them in doing their job," told Al-Iraqiya TV.

Meanwhile, masked insurgents claiming to represent three Iraqi militant groups released a videotape showing what they said were 10 abducted Iraqis who had been working for an American security and reconstruction company.

The militants said they represent the Mujahedeen Army, the Black Banner Brigade and the Mutassim Bellah Brigade, all previously unknown groups. Nine blindfolded hostages were seen lined up against a stone wall and a 10th was lying in a bed, apparently wounded.

The kidnappers said they would kill the hostages if the Washington-based company, Sandi Group, does not leave Iraq.





Today's Top News
Top World News

Hu: "One country, two systems" thriving in Macao




EU aims to lift China arms ban by mid-2005




China helps track French satellite's orbit




60 killed, 120 wounded in Iraq car blasts




Sunken ferry kills 10 students in Shaanxi




Electric vehicles may be used for 2008 Games