Sunken ferry kills 10 students in Shaanxi
By Ma Lie (China Daily)
Updated: 2004-12-19 23:44
Shen Dachun, a 48-year-old ferry boat owner who lives in Ziyang County, Shaanxi Province in Northwest China, was arrested on Saturday for his responsibility in a boat sinking, in which 10 middle school students died.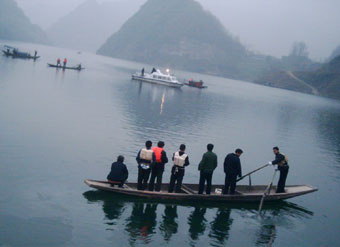 Rescuers look over the Hanjiang River on Friday after 10 students drowned when a ferry capsized in Xiangyang Township, Ziyang County in Northwest China's Shaanxi Province. Thirteen students and the ferry owner were rescued. The school bags of the dead students were scattered on the shore. [newsphoto]


The tragedy took place at 3:40 pm on Friday when 21 local middle school students plunged into the water from Shen's ferry on their way home, local police source said.

"I was on my way home after school with 20 of my schoolmates when the boat we took broke apart with a big hole in its bow... the water entered the cabin," said Chen Xiaoyan, a rescued student, speaking from the county hospital.

In all, 23 people including Shen, fell into the river as the boat sank. Thirteen were pulled to safety, according to Wang Guoku, deputy magistrate of Ziyang County.

After the accident,the 13 were treated at the county hospital, Wang said.

A tentative investigation showed that the accident was caused by overloading, illegal operation of the partly-rotted boat and mistaken handling when water came into the boat, local police source said.

On October 25, the local maritime affairs office examined and confirmed that Shen's ferry was not safe to carry people because the boat had no legal registered name, no load lines and part of the boat was rotted, the deputy magistrate said.

The office ordered Shen to stop operating the vessel, but Shen continued doing so without authorization, Wang said.




Today's Top News
Top China News

Hu: "One country, two systems" thriving in Macao




EU aims to lift China arms ban by mid-2005




China helps track French satellite's orbit




60 killed, 120 wounded in Iraq car blasts




Sunken ferry kills 10 students in Shaanxi




Electric vehicles may be used for 2008 Games