Saddam trial process opens with 'Chemical Ali'
(Agencies)
Updated: 2004-12-19 13:26
War crimes trials against Saddam Hussein and his closest lieutenants moved forward on Saturday when his feared cousin known as "Chemical Ali" was the first to face a formal interview with the chief investigating magistrate.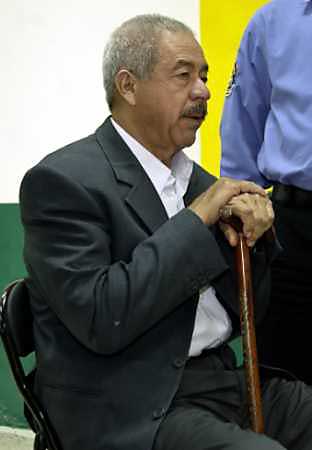 Saddam Hussein's cousin and feared lieutenant Ali Hassan al-Majid, known as 'Chemical Ali' appears before Chief Investigative Judge Ra'id Juhi of the Iraqi Special Tribunal, at an undisclosed courtroom in Baghdad, December 18, 2004. [Reuters]


Iraq's U.S.-backed government had promised trials would begin before next month's election, the first free vote since Saddam rose to power three decades ago. But the judge stressed his meetings with Ali Hassan al-Majid and the former defense minister Sultan Hashem were just the start of a long process.

"Hurrying will not help this case," Raed Jouhi said.

Official and silent film of the two hearings showed both men looking relaxed, chatting and smiling under guard. Majid leant on a walking stick, possibly still suffering from wounds sustained while on the run from invading U.S. forces last year.

Some Iraqi officials have dismissed the publicity as little more than an election campaign ploy by Prime Minister Iyad Allawi. However that may be, the 67-year-old ousted dictator and his aides have now been given access to lawyers.

After brief appearances in July to hear possible charges of crimes against humanity and genocide against Kurds gassed by troops under Majid's control, the formal process of deciding who is tried for what is under way, a year after Saddam was caught.

The Jan. 30 election will furnish a national assembly that will draw up a new constitution and, Washington hopes, give Iraq a legitimate government to replace the de facto U.S. rule that filled the vacuum left by the overthrow of the Baath Party.

U.S. officials concede an insurgency among Saddam's Sunni Arab minority poses the major threat to the chances of forming a representative legislature. Three election offices in Sunni northern Iraq came under attack in the latest incidents.

ELECTION OFFICES HIT

Two people were killed and eight were wounded, including six National Guards, when mortars landed on an election office in Dujail, 30 miles north of Baghdad. It is one of many around the country registering and educating voters.

A mortar also landed on an election office in the northern oil capital of Kirkuk, where ethnic tensions among Arabs, Kurds and Turkmen are high ahead of a poll many want delayed locally.

National Guards fought off gunmen who attacked an election office 60 km southwest of Kirkuk.

Saboteurs who are hampering efforts to restore Iraq's oil wealth and contributing to a cold winter without heat and light for many, blew up a key oil export pipeline near Kirkuk, halting flows for the second time in a week.

In the big northern city of Mosul, scene of widespread bloodshed in recent weeks, seven children in a school bus were hit when a roadside bomb missed a U.S. patrol. One child died.

The Turkish foreign ministry said several guards from its Baghdad embassy were killed in Mosul on Friday and others were missing. Witnesses saw four people killed in one car, apparently Turks.

REPRESENTATION CONCERNS

"We recognize that there are some real concerns," a Western official, briefing reporters this week on condition of anonymity, said of the need to secure an election for which U.S. troop numbers are being increased by some 10 percent to 150,000.

Asked what would happen if, as some Sunni leaders fear and others are encouraging, the 20 percent Sunni Arab minority stays or is kept away from the polling stations, the official said:

"Clearly we want a representative assembly. What will happen if there isn't sufficient Sunni participation for this to be representative I wouldn't want to speculate."

A lack of Sunni voters would boost the share of the Shi'ite 60 percent and the Kurds, who account for up to 15 percent.

Shi'ite clerics have rejected accusations from Allawi's secular allies that they are a stalking horse for Iranian-style rule by Shi'ite ayatollahs -- a line taken up by U.S. officials who say Iraqi clerics prefer secular rule.

President Bush has already warned U.S. adversaries in Tehran not to interfere.

Jouhi told reporters there was no set timetable for the trials, each of which will be prepared by different judges.

Majid and Hashem appeared in turn, both being released from handcuffs and seated on a folding chair in a bare room before Jouhi's desk, on which lay a Koran wrapped in green cloth.

Jouhi, who presided over the brief hearings for Saddam and the others in July, said both men on Saturday had legal counsel.

One of the defense lawyers declined to speak to reporters for fear of reprisals. Many Iraqis want summary justice for their former leaders, who they say have the blood of tens of thousands on their hands; the former U.S. occupying authority abolished the death penalty and Iraq has yet to bring it back.

Saddam saw a lawyer for the first time on Thursday, just over a year since he was captured on Dec. 13, 2003.

Majid earned his soubriquet for his role in using poison gas against Kurds in the 1980s; some 5,000 died at Halabja in 1988.




Today's Top News
Top World News

China prepares to enact law against secession




Rules issued to govern religious affairs




Five people in Japan may have bird flu virus




Indian army chief to visit China




EU hints to lift China arms ban in June




Top judge vows to improve judicial capacity