Macao dresses up for 5th anniversary celebrations
(Xinhua)
Updated: 2004-12-19 10:12
With newly-erected slogans, banners and neon lights lining its main streets and silhouetting its administrative buildings, a trimmed Macao is readying itself for the celebrations marking the 5th anniversary of its return to the motherland.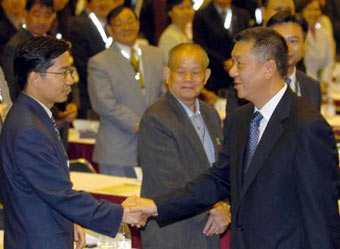 Edumund Ho Hau Wah is congratulated after being re-elected to a second term as Macao's chief executive Sunday, August 29, 2004. [Xinhua]


The celebrations are to be highlighted by the presence of Chinese President Hu Jintao and a delegation of the central government.

During his two-day stay in Macao, Hu is scheduled to attend the ceremony on Monday, which is to observe both the 5th anniversary of Macao's return to the motherland and the inauguration of the second term government of the Macao Special Administrative Region (SAR), inspect the People's Liberation Army Garrison in the Macao SAR, and meet with local personnel from different circles.

To build up atmosphere, administrative buildings and major places in the city are decked out with slogans welcoming President Hu and acclaiming Macao's progress made since China resumed the exercise of sovereignty over Macao five years ago.

Macao is making last-hour preparations, with police rehearsing the flag-raising ceremony and organizers preparing for a 1,000- people gathering that is to parade through the densely-populated downtown areas.

In addition, a fireworks display and an evening party were staged on the eve of the celebrations as warming-up exercises.

"The party came to a climax when all the participants sang to the same theme of loving the motherland," said a participant of the party held on Friday.

"It would have been a pity if you had not experienced that atmosphere. That's really something. As I was singing, I was all tears with excitement," he said.




Today's Top News
Top China News

China prepares to enact law against secession




Rules issued to govern religious affairs




EU hints to lift China arms ban in June




Top judge vows to improve judicial capacity




GM charges Chery for alleged mini car piracy




Beijing to seek investors for metro lines