Afghan jailbreak inmate to be questioned
(Agencies)
Updated: 2004-12-18 17:11
An inmate injured in a deadly Afghan prison shootout will be questioned to determine if he and four comrades, all once suspected of belonging to al-Qaida, were trying to escape or were attempting to attack three American prisoners, the jail warden said Saturday.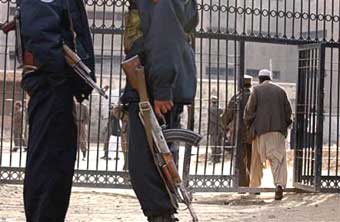 Afghan security police officers stand guard in front of the Pul-e Charkhi prison's gate in Kabul, Afghanistan Dec. 17, 2004. Two Pakistani prisoners were holed up in Kabul's main prison Friday after a bloody breakout attempt that left at least six dead and eight wounded, and sent hundreds of Afghan and international security forces racing to the scene, prison and security officials said. [AP]

Officials initially said four inmates ¡ª three Pakistanis and an Iraqi ¡ª were involved in the daylong fray at Kabul's notorious Pul-e Charkhi jail that left the four prisoners and four guards dead. But warden Abdul Salam Bakhshi said Saturday that another prisoner who was injured also was involved.

"We are going to question him, and he will tell us why they attacked, what was their target, whether they wanted to escape or what was their aim," Bakhshi said.

He said it was possible that the men were trying to get to the three Americans, who are being held in a different part of the prison while serving sentences of eight to 10 years for allegedly torturing Afghans while on a freelance hunt for terrorists.

Jonathan Idema, Brent Bennett and Edward Caraballo are seeking to overturn their convictions from a trial that embarrassed U.S. and NATO forces and sowed confusion about Washington's role in Afghanistan.

Idema's attorney, John Tiffany, said his client called him from the prison and said the Americans had been targeted for death by the inmates who attempted the jailbreak.

Idema claimed during his sometimes-bizarre trial that he was in daily contact with U.S. officials "at the highest level," including Defense Secretary Donald H. Rumsfeld's office. But the U.S. government has described him as a vigilante working on his own. He had also accused the FBI of orchestrating his arrest.

Afghan troops stormed the crumbling, overcrowded Pul-e Charkhi jail ¡ª which holds Taliban and al-Qaida suspects as well as common criminals ¡ª just after nightfall Friday with small arms and rocket-propelled grenades, ending the 10-hour standoff.

It began in the morning when the five inmates used razors to attack a guard leading them to morning prayers. They took his AK-47 rifle, then beat and stabbed him to death, Bakhshi said.

A gunbattle ensued that killed three other guards and two of the would-be escapees. Two other inmates, both Pakistanis, scavenged a second gun and barricaded themselves on the jail's war-damaged second floor, Bakhshi said. The fifth inmate, also a Pakistani, was wounded.

The two Pakistanis with guns then took potshots at hundreds of security personnel ringing the jail, keeping them from reaching three wounded soldiers inside the complex.

Jail officials used a loudspeaker to warn prisoners to "surrender or die." The inmates responded with gunfire.

The five inmates had all once been held in a northern jail run by Gen. Abdul Rashid Dostum, one of country's most powerful warlords, on suspicion of fighting alongside al-Qaida and the Taliban, though they were all released earlier this year, suggesting they were not considered high-level militants. They were re-arrested in Kabul for unspecified common crimes several months ago.

Pul-e Charkhi, located on the capital's outskirts, was the scene of summary executions under a series of Afghan regimes, most recently the hard-line Taliban. In August, a U.N. human rights expert urged the immediate release of an estimated 725 Taliban fighters taken prisoner in 2001, saying they were living in conditions that violate "every standard of human rights."

The jail is unrelated to the detention facilities that the U.S. military runs for captured Taliban and al-Qaida fighters.





Today's Top News
Top World News

China prepares to enact law against secession




EU hints to lift China arms ban in June




GM charges Chery for alleged mini car piracy




More cash allotted to cut poverty




Jobless rate -- 4.3%, lower than expected




Info chief promises media better service