Info chief promises media better service
By Qin Jize (China Daily)
Updated: 2004-12-18 00:37
The State Council Information Office (SCIO) will double its efforts to provide more convenience and a better service for journalists to cover China in the coming year.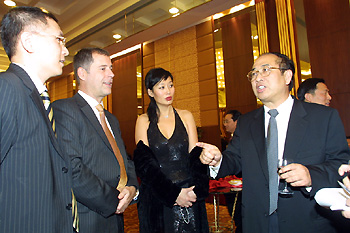 Zhao Qizheng (first right), minister of the State Council Information Office, talks with Twister TV Production CEO Frank Vaessen (second left) and Lu Xingdong (first left), president of Tang Long International Media Group at an early New Year reception held Friday night in Beijing. More than 300 people from home and abroad attended the reception hosted by the office. [newsphoto]

Zhao Qizheng, Minister of the office made the resolution at the new year reception Friday night in Beijing.

More than 300 people from Chinese and foreign media organizations, diplomatic missions, ministries and commissions under the central government and commercial firms took part in the reception, which was hosted by SCIO.

Zhao said he would like to take the opportunity to thank friends from all circles for their understanding, support and co-operation, especially those journalists, who have paid consistent attention on China.

They have made efforts in introducing China to the rest of the world in a timely, objective and thorough way, he added.

Zhao said 2004 is a year of harvest and happiness and China has made significant progress in all fields.

He told the gathering that it was the busiest year for his office since the establishment of government news briefing mechanism .

The SCIO has sponsored 58 press conferences last year.

A total of 62 departments under the State Council and 20 provincial governments have designated their spokespersons in China now.

Over the past year, SCIO published four white papers and has strengthened its efforts in training the spokespersons from governments at various levels.

Over 2,000 people have received such trainings.

Zhao told the audience that his office also has continued to hold large-scale cultural events overseas to introduce China to the rest of the world in the past year.




Today's Top News
Top China News

Country plans to enact anti-secession law




GM charges Chery for alleged mini car piracy




Japan delays sanctioning North Korea




More cash allotted to cut poverty




Unemployment rate lower than expected




New law to improve civil servant system