Japan, US sign missile defense agreement
(Agencies)
Updated: 2004-12-17 15:35
Japan and the United States on Friday signed an agreement that boosts cooperation in their missile defense programs _ the first key step in carrying out new defense guidelines that ease Tokyo's strict postwar pacifism.
Japan's Defense Chief Yoshinori Ono and U.S. Ambassador to Japan Howard Baker penned the memorandum of understanding that allows the two allies to share information on ballistic missile defense systems and cooperate in related projects, a Defense Agency spokesman said on condition of anonymity.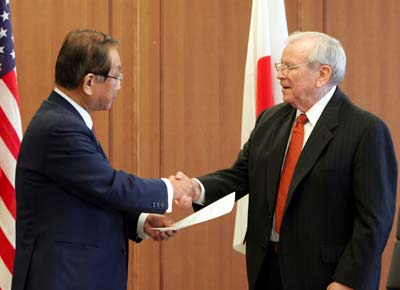 Japan's Defence Minister Yoshinori Ohno (L) shakes hands with the U.S. Ambassador to Japan Howard Baker at the Defence Ministry in Tokyo December 17, 2004. The two exchanged documents on bilateral technological co-operation on the missile defence system. [Reuters]

Under the agreement, the two countries will set up a high-level committee to supervise the missile defense alliance, the agency said in a statement. It didn't give further details.

Last week, Japan approved new defense guidelines which include the relaxation of an arms-export ban to facilitate a missile security program it's currently researching with Washington.

Japan has maintained the arms export ban since 1976 in deference to its pacifist constitution, unchanged since it was written by U.S. occupation forces after World War II. The constitution renounces war and the use of force in settling international disputes.

However, Japan approved a plan to introduce a ballistic missile defense system in December 2003, spurred by missile tests from North Korea.

In the new defense guidelines, the government identified North Korea's nuclear weapons ambitions and China's modernization of its huge military as key threats to Japan.

The new guidelines also came amid Prime Minister Junichiro Koizumi's efforts in pushing a more high-profile role for Japan's military and closer cooperation with Washington, which maintains 50,000 troops in Japan under a security treaty.




Today's Top News
Top World News

Japan urged to repeal visa for Lee Teng-hui




EU to debate China arms embargo at summit




First film rating scheme in the making




Courts: Economic cases get priority




Foreign airlines face safety checks for entry




Saddam holds first meeting with lawyer