Fixed asset investments stabilizing
By Xu Dashan (China Daily)
Updated: 2004-12-17 00:25
Urban fixed asset investments in China grew 24.9 per cent in November compared with the same month a year ago, the National Bureau of Statistics said yesterday.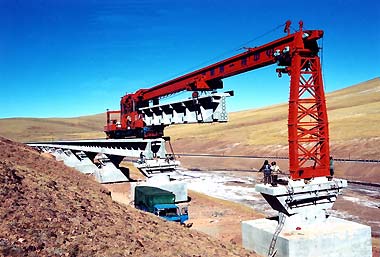 A file photo taken on December 13 shows workers setting up a section of a bridge along the Qinghai-Tibet railway. [Xinhua]

The growth rate was 1.5 percentage points lower than that in October, it said in a statement.

For the first 11 months, urban fixed asset investments grew year-on-year 28.9 per cent.

The growth rate was also lower than the 29.5 per cent rate recorded for the first 10 month, it said.

Real estate investments rose a year-on-year 29.2 per cent to 1.1 trillion yuan (US$129.4 billion) during the first 11 months. But the bureau did not provide comparative figures.

Zhu Jianfang, a senior economist at the Beijing-based China Securities, said November's growth was in line with his prediction.

"It suggests the country's fixed asset investments have been on the way to becoming stable," he told China Daily in a telephone interview.

Fixed asset investments will continue to decline in December and next few months, he said.

They is likely to grow 25 per cent to 26 per cent for the whole of this year, he said.

Driven by the fixed asset investments and domestic consumption and exports, the country's gross domestic product will grow about 9 per cent this year, he said.

Niu Li, a senior economist with the State Information Centre, said the 24.9 per cent growth was still a fast rate.

But the declining trend was what the government expected, he told China Daily.

The government has said that it would continue to beef up and improve its macro-controls next year.

"This is helpful for the country to maintain a sustainable economic development," he said.

China's fixed asset investments grew rapidly since the second half of last year. They rose to 53 per cent during the first two months.

The government worries that excessive growth in some sectors and areas could have a serious impact on the economy.

As a result, the government has taken a raft of measures to try to cool the economy. The measures include raising bank reserve requirements three times and curbing unwanted fixed asset investment projects in red-hot sectors such as cement and steel.

In a latest move to cool off investments, the People's Bank of China, the central bank, raised the benchmark interest rates for the first time in nine years.

The benchmark rate on one-year loans was raised to 5.58 per cent from 5.31 per cent and the rate on one-year deposits was raised to 2.25 per cent from 1.98 per cent.

"The measures have had a big impact on the fixed asset investment," Niu said.

"But a more healthy rate in fixed asset investment should be at about 20 per cent," he said.

Niu predicted the country's economy will grow about 9.3 per cent this year.

But problems such as energy and transportation bottlenecks will continue to have an impact on the economy, he said.