Annan tells Powell UN will aid Iraq vote
(Agencies)
Updated: 2004-12-17 09:12
U.N. Secretary-General Kofi Annan, fending off Republican demands for his resignation over alleged corruption, said Thursday he will expand U.N. support for Iraqi elections if need be.
He said he was not offended that US President Bush did not ask to see him during this visit to Washington.
The allegations of abuse in a U.N. oil and aid program hung over Annan as he made his rounds visiting outgoing Secretary of State Colin Powell and Powell's nominated replacement, White House national security adviser Condoleezza Rice.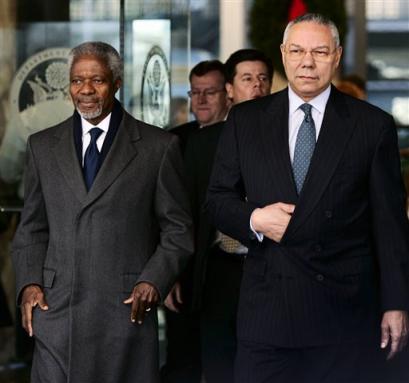 US Secretary of State Colin Powell walks with U.N. Secretary General Kofi Annan as they approach the media to speak after the two met at the State Department in Washington, Thursday, Dec. 16, 2004. [AP]

Both U.S. diplomats, along with Iraq's interim government, have lobbied the United Nations to do more to help carry off the elections scheduled for Jan. 30.

Annan addressed the subject at the start of a speech on reforming the world body.

"Let me deal with something that I'm sure is on the minds of all of you: the disturbing allegations over the oil-for-food program," Annan said at the Council on Foreign Relations. "We must get to the bottom of these allegations."

Annan pledged full cooperation with multiple investigations into the allegations. U.N. employees can be fired if they do not comply, he said.

An independent inquiry headed by former Federal Reserve Chairman Paul Volcker is "the most far-reaching in the history of the United Nations," Annan said. "All U.N. staff have been instructed to cooperate ... or face disciplinary measures, including dismissal."

The program allowed Saddam Hussein's government to sell oil and use the revenue to buy food, medicine and other necessities. Investigations have found that Saddam skimmed billions of dollars from the program using bribes and kickbacks, some involving top U.N. and foreign government officials.

Annan's son, Kojo, worked for a company that had a contract in the oil-for-food program and received payments for years after his employment ended. He worked for the company in Africa, not Iraq.

One of the congressional Republicans calling for Annan's ouster said the pledge of cooperation is welcome but unproven.

"The proof will be in the action, not the words," said Sen. Norm Coleman, R-Minn.

Earlier Thursday, Annan said the United Nations could strengthen its preparations for the Iraqi elections, but he stopped short of a specific promise to do so.

The United States is unlikely to be satisfied with the current commitment of 25 U.N. election monitors. Powell offered tepid praise for the U.N. effort so far, but did not say whether he has asked for a particular number of U.N. elections workers.

"The U.N. effort seems to be on track in support of the Iraqi effort" to hold nationwide elections, Powell said after a State Department meeting with Annan.

Iraqis themselves "have the principal responsibility," Powell said.

Powell noted that the United Nations is taking the first steps to expand its presence in Iraq outside Baghdad, to the cities of Basra and Irbil, and has increased the number of election experts it will send to the country.

"We have enough people in there to do the work," Annan said, as he stood with Powell. "And if need be, we'll put in the staff we need to get the work done. It's not a question of numbers; it's a question of what you need to get the job done."

The meeting with Powell was probably Annan's last before Powell leaves the job next year. Annan did not see Bush, but Bush conveyed good wishes in a phone call placed to Rice while she was meeting with Annan, said national security council spokesman Sean McCormick.

"I don't feel snubbed," Annan said.

"The president and I have met on many occasions, and we also do talk on the phone. And so I don't feel that if I come to Washington and we don't get the chance to meet, I should feel offended or snubbed. This is the nature of things," Annan said.

The administration has had a testy relationship with the United Nations, but U.N. Ambassador John Danforth said the White House is not pressing for Annan's departure now.

Bush startled diplomats at the United Nations when he warned last year that the body would "fade into history as an ineffective, irrelevant, debating society" if it did not help him confront Saddam.

The United Nations did send international staff to Iraq to help with reconstruction, but compounded the difficulty for the U.S.-led peacekeeping effort by pulling those workers last fall, following deadly bombings.

A small U.N. contingent returned this summer.




Today's Top News
Top World News

Microsoft software to remove spyware programs




First film rating scheme in the making




Courts: Economic cases get priority




Japan urged to repeal Lee visit




Foreign airlines face safety checks for entry




Saddam holds first meeting with lawyer